Three on O: Ogbuehi, Carter, Johnson
After each game, we'll be highlighting three defensive and three offensive players and looking in detail at their performance. We'll wrap up today with the offense:
The Wizard of Og
Tackle Cedric Ogbuehi was poached from the Houston Texans three weeks ago and hadn't seen action in his first two weeks with the team. With Mike Remmers just having been added to the 53-man roster, there was a strong chance he could have been released once George Fant or Max Mitchell returned from injured reserve.
Everything changed on Sunday though, as Alijah Vera-Tucker's season ending injury forced Ogbuehi into the starting lineup at right tackle and Robert Saleh has indicated that he'll continue in that role and could remain there until Fant or Mitchell returns. That won't be this week but could be soon.
So, has Ogbuehi earned this chance? On Sunday, he did a solid job in pass protection and this is presumably the area the Jets see as most important right now.
Ogbuehi did a good job of staying in front of his man, giving up just one pressure in 43 snaps. He also did a good job of picking up stunts.
As a run blocker, it was a different story. It was difficult to find any significant positives from him on Sunday and a lot of the time he was left looking like this: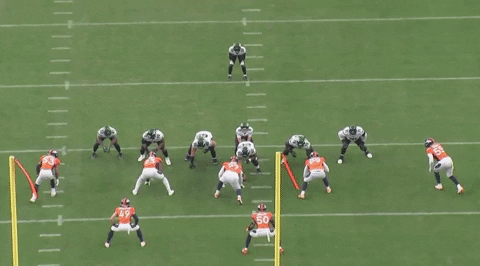 In fact, on this play, Ogbuehi essentially scored an own goal, giving the Broncos linebacker a boost so he could get in on the play and slow up the runner.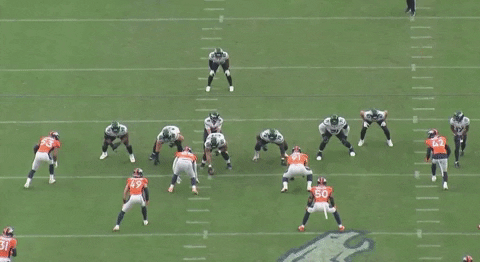 On special teams, Ogbuehi also got bowled over leading to interior pressure on Greg Zuerlein's field goal just before half time. Fortunately, that was still good, but it could have been significant.
Ogbuehi's performance as a run blocker will hopefully improve once he's had a chance to work with the rest of the starting group. That Nate Herbig-Cedric Ogbuehi right side is not what the Jets had in mind at the start of the season though.
One interesting nugget on Ogbuehi is that he's only started five games since 2017, but his team has won all five of these games. The Jets will hope that pattern continues against the Patriots.
An Ace in the hole
With Breece Hall out for the year, Ace Carter is going to have to take on a bigger role - at least temporarily, because it's possible James Robinson could end up ultimately taking on a similar workload to Hall.
Carter's output in this game - 74 yards on 15 touches - was decent, although half of that yardage came on one play: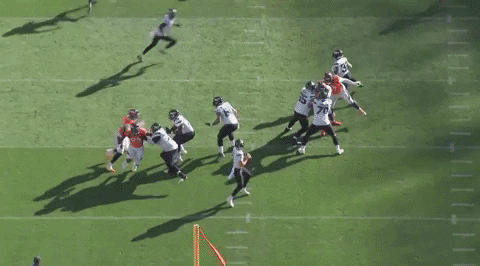 It could have been a bigger day for Carter though, if Zach Wilson threw over the top to him here. As it turned out, Wilson ran for 18 yards anyway, but he had time to look downfield and throw on the run before he crossed the line of scrimmage for a potential big gain and maybe even a touchdown.
In the running game, Carter didn't have a single run over five yards on his 13 carries. He did pick up one first down as he made a short yardage conversion on an outside pitch play. More than half of his 29 yards came after contact though.
One underrated aspect of Hall being out is that he's probably already the Jets' best back in blitz pick-up. Carter is going to have to get better at this. Here, he and Laken Tomlinson both block the same guy and leave someone unblocked, causing Wilson to rush a makeable throw.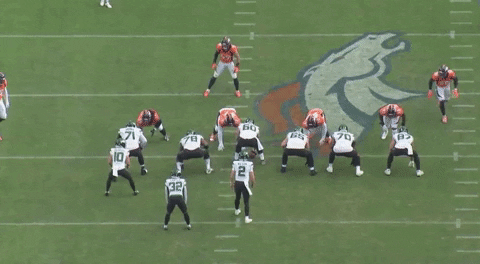 Carter was excellent last season, but the way he broke down towards the end of the year suggested he's probably better off sharing rather than carrying the load. The Robinson trade should enable him to do this and hopefully he can build on a promising start to his career.
The Ty has arrived
Another aspect of the Hall injury is that Ty Johnson's role could increase, at least in the short term. Johnson began the year as the third down back but lost playing time as Hall started performing well enough in the passing game to take over that role in addition to sharing the load with Carter.
With Robinson coming in and Bam Knight already having been added to the roster, it's not certain that Johnson will see an increase in his role, but it seems quite likely over the next few weeks.
On Sunday, Johnson played 10 snaps, having only played one since week two. He ended up with just one carry for three yards, although they did give it to him three times. His other two plays went for seven yards but one was wiped out by an offensive penalty and another by a defensive penalty.
Johnson has always been someone who can contribute in the passing game and he lined up out wide and made this nice diving catch close to the marker on Sunday: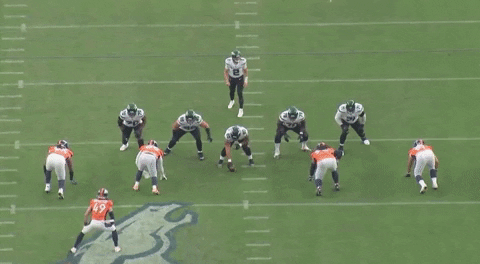 The trouble with Johnson has been that while he's looked good at times with a 100-yard game against the Raiders in 2020 and six total touchdowns as a Jet, he is prone to drops, fumbles and blown assignments in pass protection whenever his playing time increases. If he can play with more consistency than in the past, he could still be an asset this season.
Previously: Three on D: Reed, Thomas, Martin