Three on O: Perriman, Perine, Johnson
After each game, we've been highlighting three defensive and three offensive players and looking in detail at their performance. We'll conclude today with the offense:
Breshad with a Vengeance
After an injury-riddled start to his Jets career, Breshad Perriman marked his return with easily his best game for the team so far, although most of his production did come in garbage time.
Perriman ended up with four catches for 62 yards but there were a few missed opportunities on top of this. He was unsuccessfully targeted four times including on the first series where he burned his man deep but then seemed to misjudge the flight of the ball and slowed up so that it went over his head. He also had another first down catch overturned because Ryan Griffin was called for offensive pass interference.
His four catches included a team-high three first downs as the Jets only had five plays of longer than 15 yards and Perriman was responsible for three of them. All were in the fourth quarter though, but perhaps that will get him going in the weeks to come.
All three came on crossing routes. On one of the plays, which included a third down conversion and a fourth down conversion, Perriman lined up in the slot and on this one the Jets motioned him across to the left and then had him use his speed to beat the defender back across the field.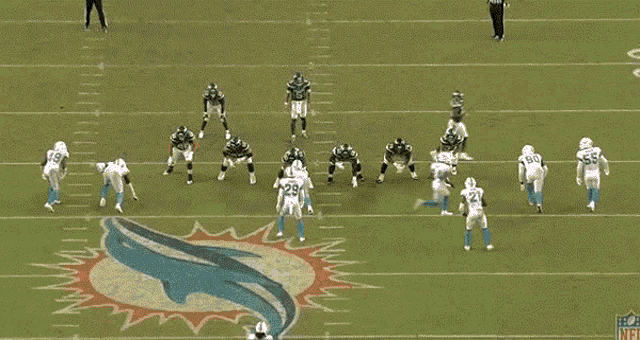 These are all good contributions but ultimately the Jets need Perriman to establish himself as someone who can be an X receiver that will be on the line of scrimmage and getting open against press coverage. The best example of him doing that was on the deep incompletion in the first series, but he did burn the cornerback on that play so it is something he's more than capable of.
Finally, Perriman's blocking was a little unreliable as he had failed to get across to his man in space once and allowed his man to fight off his block a few times.
The Jets should try and feature Perriman heavily in their offense. That was one of the biggest mistakes they made with Robby Anderson as they often went whole games where they only threw it to him a few times, primarily because they had him running low-percentage downfield routes.
Anderson has shown in Carolina that what we've been saying for years is true and that he's highly effective on higher percentage short and intermediate routes. Perriman was billed as an upgrade in this area, albeit only because Anderson's abilities were underrated. However, like Anderson, using him on such plays is a step towards generating some good production and also opening up the possibilities of more success on those downfield shots that he can also excel at if given a chance.
Hopefully he and Sam Darnold can develop some chemistry when the youngster returns to the line-up.
Perine into the future
As promised, we saw more of La'Mical Perine this week, although he still ended up with fewer carries than Frank Gore. However, this is really not as big of a deal as the media would like it to be because Perine had 41 snaps to Gore's 25. He ended up with 27 yards on seven carries and had two short catches.
Perine would have got more touches if the Jets hadn't been trailing and also if he didn't make a couple of key mistakes. His blown protection on a defensive back blitz led to Joe Flacco being sacked for a 28-yard loss on 3rd down in field goal range and he also had a bad drop on a pass that could have gone for a huge gain if he caught it and beat the defender to the edge.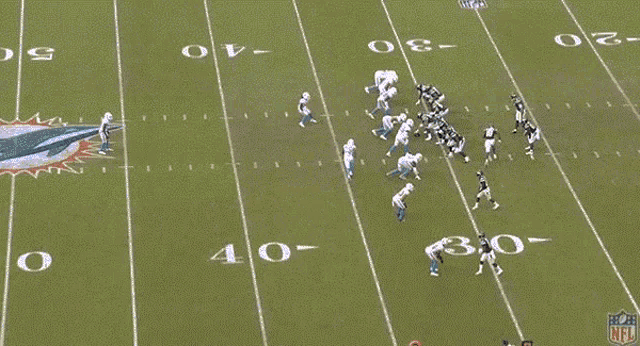 As a runner, Perine's biggest run was on the last play of the first half as he picked up 13 on a draw play with the defense having dropped off.
However, only one of his other six carries went for more than three yards. He did pick up a first down on a short yardage conversion though.
During the offseason, Adam Gase had said that Perine can really help the Jets on special teams. In this game? He had zero special teams snaps. I guess this is more evidence that they don't want to "put too much on his plate".
Hopefully the Jets can continue to use Perine and get him more opportunities to carry the rock over the next few games so we can get a better idea of what he can do.
Ty goes to the runner
Despite him only being in the game for four offensive snaps, Ty Johnson's debut performance is worth reviewing. He rushed three times for 42 yards and was unsuccessfully targeted on a pass.
It's interesting to review his first two carries together because the Jets ran the same play each time, making it easy to compare and contrast what went right and what went wrong on either side of the ball.
The Jets lined up with two backs in the backfield but then sent Perine in motion to split out wide each time. They then ran a basic zone-blocking run to the weakside.
His first carry went for eight yards.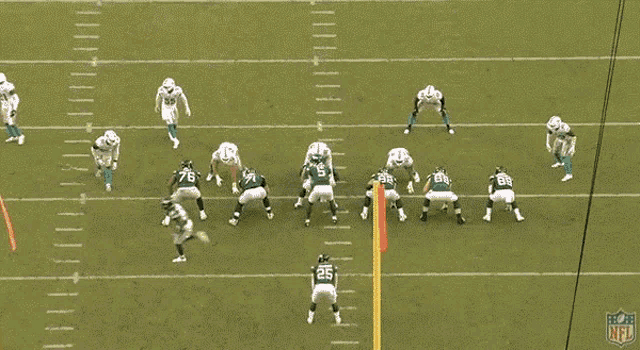 Johnson picks the running lane between center and left guard, cutting decisively. The reason it doesn't go for more yards is right tackle Conor McDermott's inability to sustain his reach block.
The second one went for 34 - the first run of over 20 yards by a Jets running back in over 22 months.
On this occasion, Johnson's running lane is between left guard and left tackle. The Dolphins switched their linebackers over so instead of having Shaq Lawson attack upfield and Fant using his momentum against him to ride him out, he is able to be the aggressor against Sam Eguavoen after he drops off the line. Also, McGovern controls his reach block on this play and, crucially, the other linebacker jumps into that A-gap that Johnson used the last time, leaving space at the second level.
It's also worth noting that Perine makes a key downfield block here, which was one of his best contributions on the day.
You can get a good sense of Johnson's instincts and burst on these two runs and it was good to see him bring an injection of pace into the struggling offense.
James Lofton commented that Johnson might only know one play and that's why we didn't see any more of him and there may be some truth to that. His only other carry was stuffed for no gain and was basically the same again with the only difference being that Chris Herndon lined up on the left so this time it was a strongside run. It was Herndon whose block failed to lead to the run being stopped too.
On his only other snap, Johnson was again in a two-back set but this time nobody went in motion. He ran a short out pattern but Joe Flacco's pass was wide of him. He was open but it would only have been a gain of about five or six yards.
Finally, Johnson was also back as a kick returner but didn't get a chance to run one back.
Hopefully this performance has encouraged the Jets to let us see more of Johnson. He'll need to prove he can hold his own as a blocker to see his workload increased substantially though.
Previously - Three on D: Williams, Huff, Phillips