Three on O: Remmers, Ruckert, Feeney
After each game, we'll be highlighting three defensive and three offensive players and looking in detail at their performance. We'll wrap up today with the offense:
Remmers the Titan
Due to the three absent starters on the offensive line, Mike Remmers was forced into action as the starting left tackle. Prior to this game, he had just played five offensive snaps, although he had also played in a special teams only role in six other games. Of course one of those five snaps was a costly strip-sack.
In this game, Remmers played every snap on an offensive line that struggled badly all day. In the running game, 19 of the 20 carries went for five yards or less (and just 26 yards in total) with the 20th being a 12-yard draw play on 3rd-and-17. In the passing game, they gave up a lot of pressure, including 10 quarterback hits, but no sacks.
Remmers himself gave up a handful of pressures but these were mostly because he was late reacting to a blitz off the edge. Here's one where he was off-balance on a stunt and the interior lineman knocked him off his spot to get pressure.
Remmers also had a penalty for holding which negated a Garrett Wilson first down as the pass rusher beat him on a quick inside move, and a false start.
While the running game was really bad and Remmers was stood up at the line multiple times, he did at least make a good block on this short yardage conversion.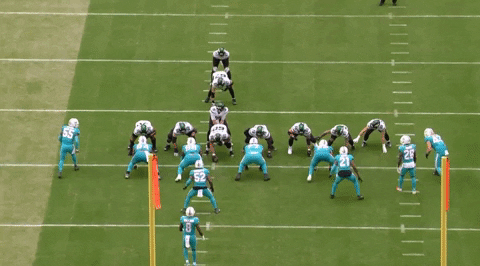 Remmers will be 34 in April and this felt more like a veteran joining a team in the hopes of one last run with a postseason contender. Whether he'll be back for another year is up in the air, but if he is then the Jets may consider him for cheap emergency depth but probably nothing more than that.
Ruck you I won't do what ya tell me
Jeremy Ruckert had 18 offensive snaps in the Cleveland game in week two, but only nine in total since then. It was therefore good to see him get 19 snaps with CJ Uzomah out and he did a decent job of showing how far he's come over the course of the season.
Ruckert, who was targeted once unsuccessfully in that Browns game but caught six passes for 24 yards and a touchdown in preseason, finally caught his first NFL pass in regular season action on this play: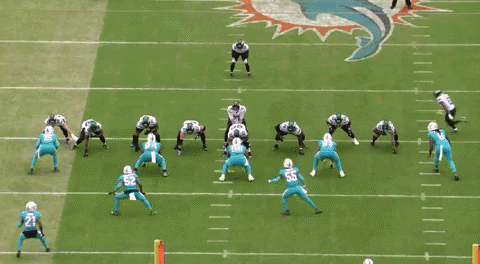 While he did well to come up with the ball on a throw slightly behind him (and to find the open space after Joe Flacco rolled out), Ruckert unfortunately was unable to fall forward to the 24 which would have been enough for a first down.
It was as a blocker that he really impressed though, not that it led to much success. Ruckert fired off the line with aggression and hit his targets well in space and at the point of attack. Here's a play where he showcased his aggression: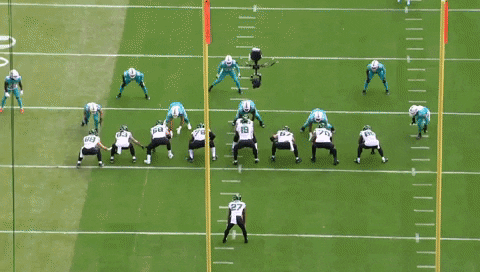 With Uzomah and Tyler Conklin being such a big part of the offense all season, it was unfortunate that Ruckert didn't get many opportunities but the team probably considered him as a year away anyway coming off an injury. They activated Kenny Yeboah over him multiple times, probably because Yeboah is a more consistent performer on special teams.
Both Uzomah and Conklin remain under contract next year, but the Jets will hope to be able to expand Ruckert's role so we see more from him in 2023.
Dan with a Plan
Dan Feeney got an opportunity to start his second game of the season at right guard and didn't fare too badly in pass protection, as he only allowed two pressures.
However, he had a really rough game in the running game. On this play, his failure to make contact on the pulling block wastes Ruckert's pancake and forces Bam Knight to change his cutback angle to he misses a chance to follow Ruckert off-tackle for a potential good gain: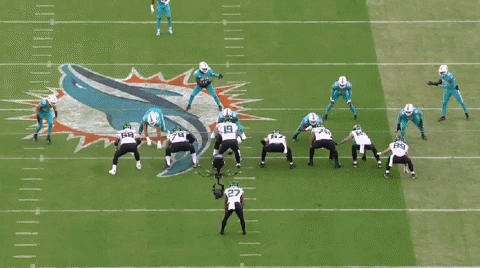 Over the course of the game, Feeney was stood up at the point of attack or allowed his man to beat him into the backfield multiple times on plays like this one:
In terms of positives, his best block was probably the one where he lined up at full back and dished out a pancake on a defensive back as seen further up the page.
Feeney, who also false-started twice only for other players to get credited with the penalty, is a useful reserve because of his ability to play all the interior positions and being able to use him as an extra lineman is useful too, not that the Jets did it very often. He's clearly not someone you'd want to rely on to start for an extended period of time though.
With Herbig, Duvernay-Tardif and Feeney all on one-year deals, it will be interesting to see which, if any, of these players will return in 2023.
Previously: Three on D: Huff, Shepherd, Quinnen Williams