Three on O: Streveler, Carter, McGovern
After each game, we'll be highlighting three defensive and three offensive players and looking in detail at their performance. We'll wrap up today with the offense:
Strev up the Engines
Since his magical preseason which saw him lead three come-from-behind wins in a row, Chris Streveler has been languishing on the Jets' practice squad. Elevated as a red herring but made inactive against New England earlier in the year, this time he was elevated and saw action for real, albeit perhaps not quite as they'd planned.
The Jets had a package of plays for Streveler which might have been a useful change of pace to give the offense a new dimension. However, when the offense is stuck in park, changing gears doesn't have any effect.
The Jets did bring Streveler in for one first half play only to commit a pre-snap penalty before they could run it. We then didn't see him again until they decided to mercifully bench Zach Wilson late in the third quarter.
Streveler ended up getting more snaps than Wilson, as he had much more success sustaining drives. Had the Jets scored a touchdown to make it 16-10 then maybe the Jaguars would have wilted under the pressure.
Unfortunately, Streveler - who passed for 90 yards and rushed for another 54 on his three drives - couldn't get the Jets in the end zone. Their first drive stalled in the red zone as an official's intervention when they had 3rd-and-short seemed to kill their momentum. They also could have had a long touchdown earlier on during this drive, as Streveler underthrew CJ Uzomah on a 30-yard pass that really should have been a 72-yard touchdown because he was all alone. The next drive ended in unfortunate fashion as Garrett Wilson lost a fumble when the ball was kicked out of his hand. The final drive also stalled in Jaguars' territory.
Streveler showed in preseason that despite some limitations in terms of his arm, he can be effective in a short passing game, with opportunties opening up because the defense has to respect his running threat.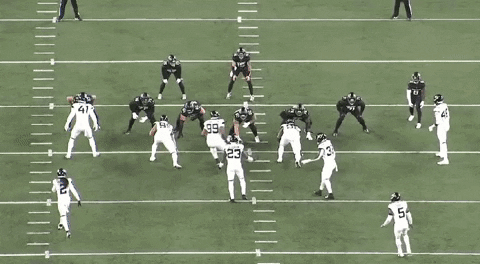 He had some good runs on Thursday too, including one where he trucked a safety and this 3rd-and-long conversion: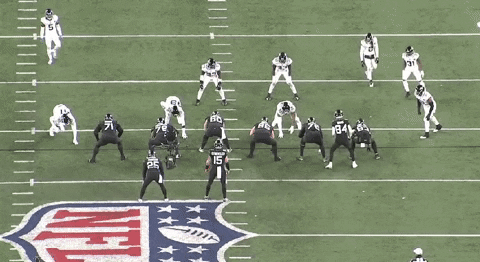 On the face of it, a guy who can come in a operate a package of plays for certain situations or take over for a series of two and provide a different look could have been invaluable in some of the Jets' recent losses.
In the Vikings game, the Jets ran 24 plays in the red zone in the second half, but only scored one touchdown. If some of these had been special package plays the Vikings hadn't prepared for, maybe the Jets score another touchdown or two and get the win.
In the New England game where neither team's offense could move the ball and the game looked destined to end 3-3, what if the Jets could have gone to Streveler for a drive or two? Thursday's night's game showed how difficult this change in style is to adjust to.
If the worst-case scenario is a three-and-out that Wilson probably would have had anyway if you stuck with him, would this not have been worth trying just to see if you can get enough momentum to get into scoring range?
While you can understand the practical issues with available roster spots or not wanting to risk turnovers or damage Wilson or Mike White's confidence, this perhaps should be something the Jets should have done far sooner in a desperate situation. Now teams have seen it, the effective is almost certain to be lessened.
In these last two games, we might see Streveler again, but it feels like a wasted opportunity to unleash this weapon in a situation where you're not going to get a win and the relative success he had sums this up.
Ace for the Prize
Ace Carter remains behind Zonovan Knight on the depth chart, despite Knight's recent struggles (he averaged 100 yards from scrimmage in his first three games but has just 21 yards on 19 carries in the last two games).
Carter, though, is in a slump himself. After a great performance in the win over the Bills saw him rack up 86 yards on 13 touches, he has rushed for just 66 yards on 25 carries over the past five games. On Thursday night, he had a season-low two carries.
He did at least have some production this week in the passing game, racking up 44 yards on five targets including this first down.
That gives him 37 catches on the season, overtaking his total from last season. He has 41 fewer yards though.
Another issue for Carter has always been his pass protection. Only Dalvin Cook has given up more total pressure than Carter, in more than twice as many pass block snaps. Only Alvin Kamama has a worse pass blocking grade among qualifying backs per PFF. In addition, he's given up three sacks, which is tied with Najee Harris for the league lead.
On Thursday, he didn't get enough of Arden Key on this cut block and his low hit could easily have knocked Streveler out of the game and forced a dejected Wilson to re-enter.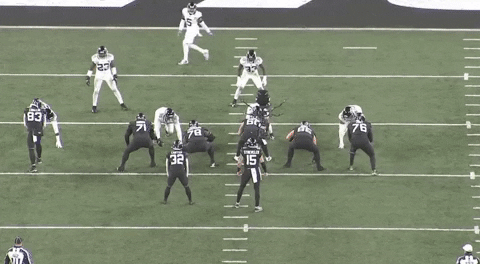 Despite his infectious personality, Carter has to have been frustrated by his reduced role this year - especially since Breece Hall's injury paved the way for him to potentially get more time. Unfortunately, his inconsistent pass blocking and bad recent numbers (although clearly the run blocking has been a unit-wide issue) have cost him this opportunity. It's unclear what his long-term future here looks like right now.
Connoring the Market
Connor McGovern has had a solid season as a whole but, at the moment, the unit he is anchoring is having a rough time of it, both in pass protection and the running game.
Despite a couple of rough games in a row, it's difficult to put all of the blame on him because everyone else seems to be struggling too. George Fant's return was expected to stabilize the unit, which is now close to what they intended to be the starting unit when the season began with Nate Herbig in for Alijah Vera-Tucker being the only enforced change. Fant had really been struggling before going on injured reserve but hasn't been any better since returning.
McGovern ranks in the top-10 in PFF's run blocking grades for centers and in the middle of the pack for pass blocking even after taking into account his recent struggles. However, he's in the top five at his position for most sacks and pressures surrendered.
On Thursday night, he gave up two sacks, but wasn't the only person responsible for these.
On this first one he does stay in front of his man, but gets walked back into Wilson's lap and Wilson gets swallowed up as both guards also get driven back. This is one of those occasions where Wilson should probably try and escape out the back but you get the sense he's been trying to stay in the pocket almost to a fault.
The other sack McGovern's man got saw the right side of the line collapse because Fant whiffed on his block badly. Herbig had to help Fant and this gave McGovern's man an immediate upfield leverage advantage as Herbig vacated the double.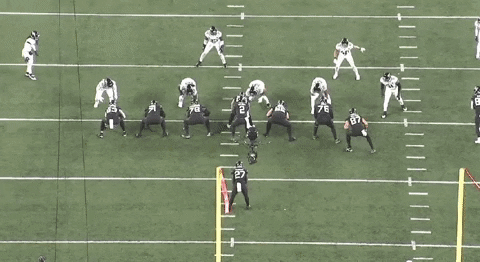 McGovern is out of contract at the end of the year and apparently isn't really a big city guy, nor that concerned about money, so he might be tempted to go elsewhere in the offseason. He probably could have had an extension during the offseason if he'd been planning to stick around and opted not to negotiate one, so don't be surprised if they need to fill this position some other way next year.
Considering how much worse the center play was in the few years before McGovern was signed, it might not be easy to ensure you don't downgrade at this spot.
Previously: Three on D: Reed, Thomas, Curry