Three on O: Turner, Gipson, Carter
After each game, we'll be highlighting three defensive and three offensive players and looking in detail at their performance. We'll wrap up today with the offense:
Billy Turnstile
Billy Turner filled in at right tackle on Monday night but it might be his last appearance for a while because he reportedly broke a bone in his hand. In an ideal world, it would be his last appearance for a while anyway because he really struggled.
Turner wasn't effective in the running game, had a penalty for hands to the face and gave up a total of 10 pressures including three sacks.
The most enlightening series of the game was when the Jets made it to the red zone for the only time all day on their opening drive of the second half. On first down, the Jets had a run stuffed as Turner basically blocked nobody. On second down, he was beaten with speed as rookie Tuli Tuipulotu used a rip move around him to force Zach Wilson to step up into a collapsing pocket and into the arms of Khalil Mack. Then on third down, he was manhandled by Joey Bosa, leading to another sack.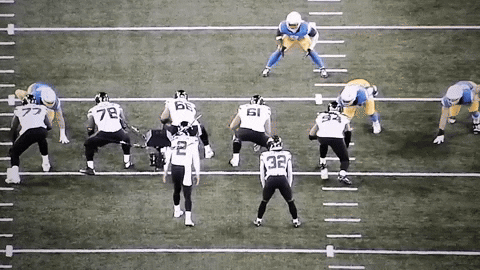 Turner's best position has always been right tackle, but having a quarterback like Aaron Rodgers obviously makes life easier for him by getting the ball out faster than Wilson is. That extra half-second perhaps makes Turner look worse than he actually is.
On the basis of Monday's performance, there's no question he was the fifth best member of the Jets' "best five".
Now the Jets need to decide who will be right tackle against the Raiders this weekend. It could literally be any one of Max Mitchell, Mekhi Becton, Duane Brown, Dennis Kelly or Carter Warren, depending on Brown's availability and whether the Jets would rather elevate a guard than a tackle if he can't go.
Get a Gip on Yourself
Xavier Gipson saw more action than ever before this week as the rookie was on the field for 47 snaps. He also caught the first two downfield passes of his career in the first half, netting 32 yards in total.
He wasn't targeted in the second half, though, and now has 70 yards on seven offensive touches for the season.
Gipson's first catch came early in the game with the Jets playing up-tempo only for Wilson to then make several changes at the line. Gipson was open on the outside, but the throw was late and the defender was able to jump the route and almost got there to pick it off. To his credit, Gipson still held onto a tough catch as the defensive back arrived and hit him hard.
His other catch was a rare third down conversion with the Jets otherwise going 2-for-16 on third down situations. This is the kind of play the Jets would love to see more of from Gipson in those key moments.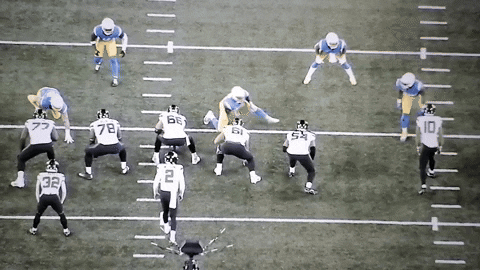 It is also worth noting that Gipson also made a couple of positive contributions as a blocker.
Gipson's main role has, of course, been as the return specialist. However, he's not had much success in the past few games, which has been frustrating because the Jets' defense has played well but not forced turnovers so he has had a lot of opportunities. This is more down to the blocking than his own failings, though, with the Jets clearly missing Justin Hardee's contributions there.
Carter: Better, Faster, Stronger
Ace Carter's role this season has been an interesting one. He's essentially been demoted from being Breece Hall's backup and into a third down back role. This has actually meant he has now played more snaps than Dalvin Cook and stayed in to block more times than he has (22 to 13).
It seems strange that the Jets wouldn't want Hall on the field in those situations but they perhaps haven't been impressed by the consistency of his hands and blocking. Carter hasn't been perfect either, as he's had a couple of bad drops and given up some pressure. He's not given up any sacks, though, after having given up six in the previous two years.
In Monday night's game, Carter first touch was a frustrating one as Wilson shoveled it to him for a short gain on 3rd-and-8 when it looked clear that Wilson could have run for more yardage. Having reviewed the film, there perhaps wasn't as much room as it seemed like in real time, although Wilson probably would have been able to dive for the marker and extend the drive.
Otherwise, Carter didn't see much action until a garbage time drive where he was the center of attention. In a sequence of seven consecutive plays, he was thrown to six times, catching all six underneath, and actually on the only one where he wasn't thrown to, he was wide open in the flat as Wilson instead threw downfield.
Carter didn't break any tackles or make any extra yardage, but the sequence may have been beneficial for Wilson in terms of getting him into a rhythm and teaching him the valuable habit of taking what the defense is giving you. Carter showed good instincts to leak to the open area for this first down, although the Jets benefited from a defensive penalty anyway on the play.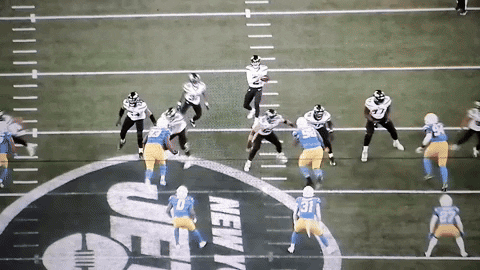 Carter ended up with 24 yards on six catches, the most he's had since last year's season opening loss to the Ravens. For the year he has 106 yards on 23 touches. It's been a modest output, but maybe the Jets should give some thought to deploying their backs differently to give Carter more early-down work, phase out Cook and use Hall on key third downs and two-minute drills.
Previously: Three on D: Johnson, Smart, Gardner