Three on O: Vera-Tucker, Davis, Herbig
After each game, we'll be highlighting three defensive and three offensive players and looking in detail at their performance. We'll wrap up today with the offense:
Amazingly Versatile Tackle
It was completely unexpected to see Alijah Vera-Tucker lining up at left tackle with the first team offense even though he played the position in college. However, it's obviously something the Jets felt comfortable that we was capable of in an emergency - which losing your first three (now four) tackles obviously constitutes.
Vera-Tucker lacks the ideal length to play the tackle position full time, but his smarts, footwork and technique enabled him to hold up as well as could be expected. It was certainly better than a hobbled George Fant and his replacement Conor McDermott had managed in the Bengals game, so in that respect the move was a resounding success.
While he wasn't perfect - he got beaten for three pressures and has his least consistent game of the season so far as a run blocker - Vera-Tucker's performance can give the Jets comfort that if a similar situation arises in future, it's not the end of the world.
While he had his hands full with Alex Highsmith at times, Highsmith's lone sack (the only one for the Steelers all day) came as he was lined up on the other side, although the Jets have Zach Wilson's escapability to thank for that number not being more like five or six.
Although Highsmith got past him cleanly a few times, there were a couple of key plays where Vera-Tucker handled him well on key completions. On one, he anchored well against the bull rush and on another he did well to repel a spin move.
Although he had inconsistent results in the running game, this was more of a unit-wide issue and he came up big on the last drive. Breece Hall ran from the 9-yard line down to the two thanks to his kickout block and then his winning touchdown came as a result of Vera-Tucker driving pro-bowler Cam Heyward to the inside.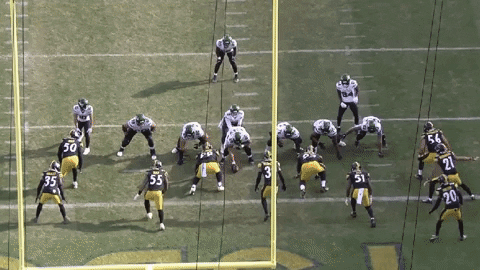 Hopefully Vera-Tucker won't have to do this again too often but it's nice to know he has this in his locker should the need arise. He can have more of an impact once he's back at home at right guard though.
Corey Saves-Us
Corey Davis has been a bit of a forgotten man so far this season, and was even rumored to be potential trade bait in unsubstantiated reports during the week, but he's quietly leading the Jets with 261 receiving yards through four games after another solid performance.
After only catching one pass last week, Davis was again quiet for most of Sunday's game but came up huge with four big catches on the last two touchdown drives.
This one was the epitome of clutch as he shook the cornerback and snagged a nice Wilson throw on fourth down to keep the drive going.
After finishing off that drive with a five yard touchdown on a nicely designed play where his outside-in route got him wide open, Davis also had 15 and 17 yard catches on the game-winning drive at the end.
One of these was a spectacular catch as he was falling to the ground on a pass thrown behind him, although the Jets were lucky it wasn't reviewed because the replay showed the nose of the ball contacted the turf as he was securing it.
Davis also made some good contributions as a blocker, with key blocks on Hall's two longest runs of the day. He did, however, get called for an illegal block in the back in the fourth quarter, though.
Davis surprisingly continues to be on a thousand-yard pace, although we're all expecting Elijah Moore and Garrett Wilson to be the main targets as the season progresses. However, Davis himself is only 27 - not exactly a dinosaur. And if he carries on like this, his 2023 cap number will look more like a bargain than an albatross.
'Big Boy
Vera-Tucker's emergency move to left tackle wouldn't have made any sense if they couldn't get better play from the replacement right guard than they would from the fill-in at left tackle. Fortunately, Nate Herbig did well enough that the gameplan was successful.
While the running game was poor overall, with a large number of runs stuffed at or near the line, the Jets broke enough runs to almost crack the 100-yard mark as a team and Herbig played a part in this.
Early in the game, they moved the chains on 3rd-and-5 as they crossed up the Steelers with a run. All five linemen did a good job here, but Herbig leaning on two guys at once was key to the play being successful.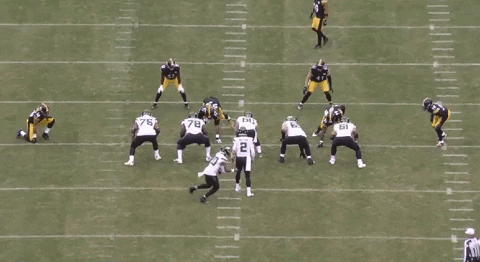 He also had the key block on this burst up the middle by Hall, albeit again on a play where other players did well too.
In pass protection, Herbig struggled against the bull rush a few times, giving up three pressures, including the one that led to Highsmith picking up a sack in clean-up. However, he did well enough that the Jets were able to get the win.
Some have been critical of Laken Tomlinson's performance so far and might be wondering if Herbig getting some reps ahead of him is a possibility after this game. That's probably premature, as Tomlinson is showing signs of improvement in pass protection (where, despite giving up plenty of pressure, he is the only lineman not to surrender a sack or hit), but it's nice to know they have playable bodies on the bench.
Previously: Three on D: Carter, Lawson, Joyner