Three on O: White, Vera-Tucker, Moore
After each game, we've been highlighting three defensive and three offensive players and looking in detail at their performance. We'll begin today with the offense:
White Supermacy
Called upon at short notice to fill in for Zach Wilson, Mike White honestly gave a creditable account of himself in his NFL debut.
White completed 20 of 32 passes for just over 200 yards and a touchdown, although there was an air of "born on third base and acts like he hit a triple" about that touchdown pass because he took over the reigns with the ball at the one-yard line. He was also bailed out by a great leaping catch by Corey Davis, although White perhaps deserves some credit for putting it in a spot where only Davis could make a play on the ball.
To some extent, White padded his stats with easy dump-offs to his running backs. Ace Carter and Ty Johnson combined for 132 yards on 14 receptions having entered the game with just 15 catches for 115 yards between them in the entire rest of the season.
The pass which perhaps most sums up his performance was on 3rd-and-10 where he dumped the ball to Johnson behind the line of scrimmage and he raced upfield for a 15-yard conversion. Five of his completions were behind the line of scrimmage while only four were completed more than 10 yards beyond the line of scrimmage.
He hit on a downfield throw where Davis made a nice sideline catch but this was perhaps White's nicest throw.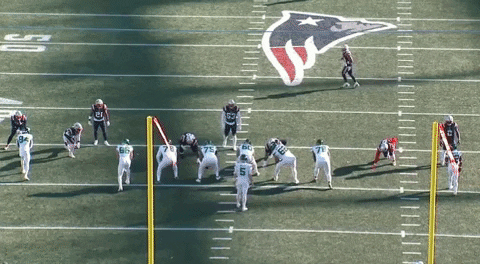 By hitting on those easier passes, White succeeded where Wilson often has not and helped give the Jets a sense of how their offense can establish some rhythm. Obviously Wilson offers more in terms of the more difficult passes and off-schedule plays.
When forced to make more difficult throws in passing downs, White was fearless but often forced the ball into coverage. On one fourth down pass, his throw was batted down but was headed towards a tightly-covered Trevon Wesco anyway. Jets receivers are talented enough to come down with contested catches, and Denzel Mims almost did on one such play.
It's possible White will start on Sunday if Joe Flacco isn't up to speed yet, but then again if that's the case then White would benefit from getting as many practice reps as possible which is only going to delay Flacco from being ready with the next game being a Thursday nighter on a short week.
'Jah Rules
As badly as Sunday's game went, the offensive line was one unit that wasn't particularly to blame. In pass protection, the Jets gave up just two sacks, one on an unblocked blitz by the nickel corner and the other on a play where Greg Van Roten got beaten and Morgan Moses' man finished it off.
For Alijah Vera-Tucker, this continues a recent solid string of performances in pass protection by the rookie. Vera-Tucker gave up 12 pressures in the first three games but the two pressures he gave up on Sunday were his first over the past three games.
In addition, both came in the first quarter, so he once again settled down as the game went along.
As we noted earlier this week, the Patriots attacked the Jets' left side with a couple of stunts as soon as George Fant left the game temporarily, one of which led to a holding penalty on Vera-Tucker and the other leading to a pressure given up by Chuma Edoga around the edge. Otherwise, Vera-Tucker basically wasn't troubled in the last three quarters.
The running game once again wasn't very effective with just 2.7 yards per carry gained by running backs, although Vera-Tucker himself had both positives and negatives. The overall numbers were improved slightly by Elijah Moore's end around, on which Vera-Tucker got downfield well to make a block.
Vera-Tucker is also showing how well he can contribute in the screen game. He does an excellent job in space here (although the play unfortunately ended in a fumble).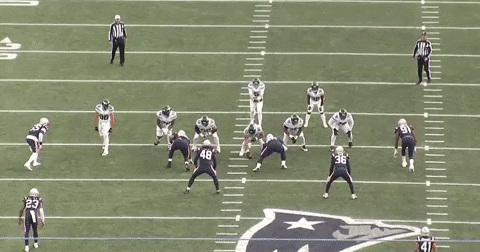 Vera-Tucker seems to be well on his way to being a player the Jets can rely on for consistent performances every week. However, he may only be scratching the surface and could ultimately be even more dominant and grow into the kind of difference maker the Jets sought to move up for in the draft.
Less is Moore
Moore, who was the next draft pick after Vera-Tucker, is also starting to show what he's capable of. However, this progress has been a lot slower.
His raw numbers are alarmingly bad. Moore has just nine catches for 79 yards on 26 targets. That's barely three yards per target.
Not all of this is his fault, though. He slipped as he made his break on two of the five unsuccessful targets, for example. Can this be attributed to bad luck, or is Moore pressing and perhaps not playing under control? It's hard to say.
There was one incompletion he'd perhaps like to have back where he juggled his catch and then had the ball jarred loose by a defender. That was slightly late and a bit behind him though.
Moore's touchdown, a 19-yard end around, was his best play of the season so far and showcased his acceleration and open field instincts. It would be good to start highlighting the same abilities on slant routes and crossers because all of his catches so far have been outside the numbers or behind the line of scrimmage and he's only been targeted three times over the middle.
Something else Moore showed for the first time on Sunday was his ability to slip a tackle as he picked up a first down on this play which perhaps should have had 15 yards tacked on for a face mask penalty.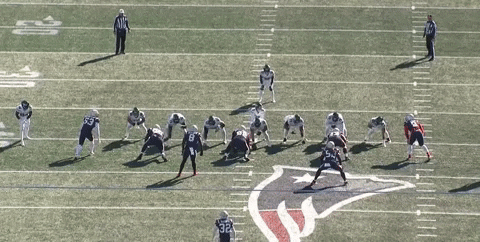 As many Jets fans have noted, it's perhaps not the best idea to get him to be the primary blocker on a receiver screen though.
Moore has slowly started to contribute some important plays and it feels like a breakout is going to come at some point. However, the change at quarterback and their efforts to involve more players in the passing game may slow this down.
We'll be back with the 3-on-D tomorrow...