Three on O: Wilson, Fant, Knight
After each game, we'll be highlighting three defensive and three offensive players and looking in detail at their performance. We'll wrap up today with the offense:
Garrett Expectations
Garrett Wilson has arrived. With over 90 yards in four of the last five games, the rookie is now on course for a thousand-yard season and has a bright future with the Jets who now seem to be unlocking his true potential.
In Sunday's game, he racked up 162 yards which is the most by a Jets receiver in eight years, the second most in the last 15 years and tied for the fifth most since 1990. Impressive stuff.
Wilson did most of his damage against Vikings rookie Akayleb Evans, who was making his return from injury, but that's probably more of a positive than a concern because it's good to see him starting to take advantages of mismatches like this. Other than when he was matched up against Evans, Wilson only had 48 yards on nine targets. However, three of his four catches went for first downs.
Wilson showcased his route running skills on this deep out pattern where he had a good double-break to lose Evans. He secured a good catch at the sideline with both feet inbounds too. Would Zach Wilson have been able to make this throw on time, though?
Wilson also showed off his exciting after the catch abilities by turning this simple slant route into a 60-yard gain. Again, it's amazing what potential can be unlocked when the quarterback is hitting guys on time and in stride.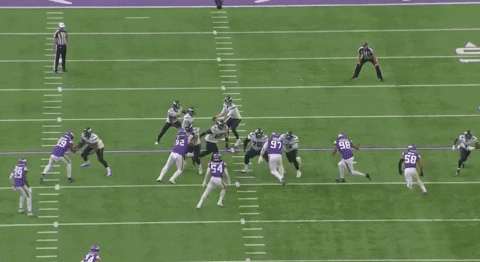 On his other catches, Wilson showed a good mix of in-breaking and out-breaking routes and held onto the ball in traffic well on one play. He also drew a pass interference penalty near the goal line and perhaps should have had another on a no-call on third down in the red zone.
He did have seven unsuccesful targets - and got the ball on a reverse that he ultimately just threw away because nobody was open. A deep ball where he got behind Patrick Peterson was just beyond his fingertips and he almost made a leaping grab downfield on a catch that was disrupted at the catch-point by the safety.
Hopefully Wilson keeps rolling down the stretch. The more unstoppable he is, the easier it will be to get everyone else involved.
Chewing the Fant
George Fant returned to action as he took over from Max Mitchell at right tackle with 3:35 to go in the first half and then finished the game at that spot.
This probably wasn't the plan, with Fant activated as cover following several weeks on the shelf due to a knee injury. However, Mitchell had been dominated at the point of attack on two runs that were blown up and then gave up a sack on the Jets' first drive in the second quarter.
The Jets turned to Fant instead and the offense was more effective once he had entered the game. Fant only gave up a couple of pressures in pass protection and was solid in the running game. He leads the way on an athletic trap-counter block here.
While Fant was credited with a quarterback hit allowed on a Zadarius Smith knockdown, he actually did a good job on that play, stopping Smith's speed rush and repelling his spin move. White was knocked down at the end of the play as he stepped up to throw and Smith was able to disengage.
This is basically as close as we're going to get to seeing the Jets' offensive line at full strength this season. While Mekhi Becton was already out for the season before it began and the Jets are forced to use Nate Herbig rather than Alijah Vera-Tucker at right guard, the other four positions are at last filled by those who were intended to be the opening day starters. For Fant and Brown, it was their first snaps together since preseason where they played just the first 21 snaps of one game together.
From now on, you'd expect the offensive line to be the same as the unit that finished the game with Mitchell and Feeney as the main reserves. It seems unlikely we'll see Cedric Ogbuehi again unless there are injuries with Mike Remmers and Laurent Duvernay-Tardif available as additional cover.
The Dark Knight
Zonovan Knight's second game was even better than the first, as he racked up 90 rushing yards on 15 carries and five catches for 28 to give him 118 yards from scrimmage overall.
Knight did most of the damage (86 yards) after half time, with the majority coming on this 48 yard burst where he followed his blocks well and slipped through a gap to break it upfield.
He actually only had one other first down run, showing good vision, decisiveness and a strong finish on this play, which had a face mask penalty tacked on.
Knight also only had one first down in the passing game but he picked up useful chunks of yardage all day to give the Jets manageable downs. (Actually, "all day" isn't entirely accurate because he carried just twice for zero yards in the second quarter and the Jets were much more effective once they went back to a more balanced look).
Knight, who also successfully stayed in to pass block three times, continues to impress and should still get a lot of work even if Ace Carter is back from his ankle injury on Sunday. The unimpressive James Robinson looks set to be de-activated again once Carter is back, but Knight is proving indispensable in the absence of Breece Hall.
Previously: Three on D: Echols and the Williams brothers