Broncos at Jets: Special Teams Review
We've been breaking down this week's game against Denver. We wrap up today's analysis with a look at the special teams.
Let's review the key contributions...
Kicking game - Mann Alive!
Punter Braden Mann only got to punt three times this week but he made his most impressive play of the season in coverage.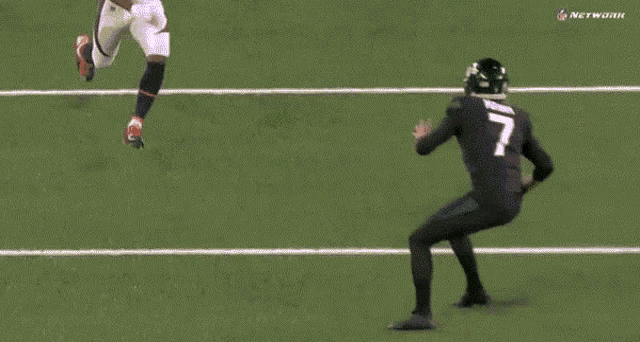 Seriously, this is a really amazing play. Outstanding technique and balance. The last Jets player to ghost around a blocker that smoothly was Muhammad Wilkerson in his prime.
As for his kicking, he put one in the end zone from near midfield although that was excusable because he was under heavy pressure. On the play the Jets messed up their protection and Frankie Luvu ended up with two guys to block, one of whom he was called for a hold on. It looked like Matthias Farley screwed up here and should have moved across.
Another Mann punt landed inside the 15 but that was the one on which he had to make the tackle following a long return.
His other punt was a beauty though - 53 yards with great hang-time. Even this was returned 10 yards though.
It was also a good day for Sam Ficken who made his only extra point and all six of his field goal attempts, including a 54-yarder and a go-ahead field goal with six minutes remaining. He also tied a career-high with seven touchbacks.
Ficken was slightly fortunate because he missed one field goal only for the attempt to be negated by a penalty. However, he's really exceeded expectations so far this year and - officially - remains perfect.
As for Denver, they made three field goals and four extra points, although Javelin Guidry got pressure off the edge on one of them.
Ryan Griffin and Conor McDermott allowed a lineman to split them to create pressure on one of Ficken's kicks.
Kick coverage - Henn Party
The coverage unit was bailed out by Mann on his great tackle as noted above. On that play, Kalen Ballage got downfield well as the gunner and almost stopped Diontae Spencer for no gain, but he slipped away from him for a 41-yard return. Harvey Langi would have been in position to clean up but he overran the play.
Ballage also had a personal foul on the punt that rolled into the end zone because he ran out of bounds and didn't immediately return to the field of play.
On another punt, Neville Hewitt overpursued in similar fashion but Thomas Hennessy ran down to make a solid open-field tackle.
The first kickoff was the only one on which the Broncos had a return with Daniel Brown making a solid tackle at the 20. La'Mical Perine drew an illegal double-team block penalty on the play.
Return game - Malone and Forsaken
There's not much to say about the return game today. Spare a thought for Josh Malone who went back to return a kickoff eight times only for all eight to be touchbacks.
In addition, the Broncos only punted once, although the Jets generated their first punt return yardage of the entire season on Braxton Berrios' 12-yard return. It was good to see him back in that role instead of Chris Hogan.
The retun was an interesting set-up for the Jets who deviated from their usual approach to set up a return.
Instead of having a vice double team that invariably gets beaten leading to a fair catch, the Jets put Lamar Jackson and Pierre Desir as a single vice on the gunner - and each one did a pretty good job - with Guidry and Farley dropping back in front of Berrios to give them help further down the field. It worked quite well so perhaps we'll see more of that in the weeks to come.
That wraps up today's analysis from the game, but we'll be back with more over the next few days...