In-depth analysis: Bollinger Bowl XVI (Part One - Defense)
This edition of the Bollinger Bowl was one of the most memorable since the first one, as the Jets earned a tie with a miracle touchdown as time expired. However, despite the fact most key contributors were rested, the game still provided a little clarity in terms of key position battles. On defense, it also gave some cause for concern.
We're going to break down how every Jets player performed in the preseason finale against the Eagles for you today, starting with the defense.
Defensive Tackles - Smart Money
The Jets' first three defensive tackles are locked in. Quinnen Williams, Folorunso Fatukasi and Sheldon Rankins should give the Jets a solid rotation. However, coach Robert Saleh likes to activate - and use - four interior linemen, and that fourth spot is wide open.
Fatukasi was the only one of those three to get any reps on Friday night and he showed up in the passing game with a strip sack and another pressure on a bull rush. In the running game, he stuffed one run and penetrated to affect another but was blocked off the line by a double team on Philadephia's second touchdown.
The three players competing for that fourth spot are rookie Jonathan Marshall, Tanzel Smart and Nathan Shepherd. Of the three, Smart was probably the best, as he had two tackles and a quarterback hit. Shepherd and Marshall had just one tackle each.
While the reluctance to expose a draft pick to waivers is understandable, it's difficult to justify a spot for Marshall at this time. As soon as he entered each game, the defensive line was routinely driven back and the other team was able to pick up chunks of rushing yardage.
As with each of the other games, Marshall showed one positive - in this case a fourth quarter run stuff - but it was the only positive among a handful of negative plays.
Shepherd has been unable to capitalize on the rookie's struggles though. He's also been controlled a lot at the point of attack, notably on the Eagles' second touchdown, where he wasn't the only player driven off the line but was perhaps the one who offered the least resistance as a big cutback lane opened up.
Shepherd did have some positives. He drew a hold, hustled back to stop an Eagles player just shy of the marker on third down and flushed the quarterback from the pocket by penetrating three times.
This may have been Smart's least impressive preseason game, but he created some pressure with a bull rush and blew up a run with penetration. He was blocked out of a few running plays though.
The Jets may have been relying on some of their defensive ends to contribute on the interior but with all the injuries at that position, this may no longer be viable.
Edges - Some like it Huff
It was depressing to hear Joe Douglas talking about how the team's pro scouts are desperately looking on other team's rosters for players who can help them at a position where the Jets were expecting to be deep when camp opened.
With Carl Lawson and Vinny Curry lost for the year, Kyle Phillips still on the PUP list and Jabari Zuniga and Ronald Blair missing out through short-term injuries, John Franklin-Myers is the only remaining roster lock and the Jets smartly gave him the night off.
Bryce Huff is considered the most likely player to step up and he was the only edge to register a quarterback hit once again. He also created pressure with a bull rush, but ultimately didn't play much.
Whether there will be room for Jeremiah Valoaga and undrafted rookie Hamilcar Rashed on the roster or practice squad after the first round of waiver claims remains to be seen but neither did much to guarantee themselves a spot.
Rashed had a couple of positive contibutions but didn't really generate any quality pressure and was only credited with one tackle. Valoaga was a little more productive with four tackles and a couple of pressures, but he also lost contain a couple of times. He penetrated upfield on a running play again, like he did last week, but didn't really establish himself as a pass rushing threat.
The other edge to get reps was Aaron Adeoye, a recent signing, but his introduction to the game was to get badly blown off the line on the Eagles' first touchdown.
He also had a missed tackle, but dropped off to make a tackle on a short pass and did beat his man around the edge once for a pressure.
Linebackers - A chip off the old Blockhead
The loss of Jarrad Davis hasn't received the same kind of attention as the Lawson injury, with Saleh expressing confidence in rookie Jamien Sherwood to pick up the mantle. However, you have to wonder if Saleh's confidence in the rookie will be wavering after a troubling performance.
Sherwood had two bad missed tackles on the first drive that led to a first down and a long touchdown. The announcers were praising him for at least being in position to make a play, but he took a really bad angle on the second one. He was also blocked out on a screen pass and at the second level on two runs and gave up another first down in coverage.
It should be easier for Sherwood once he's lining up alongside CJ Mosley and that's the hope the Jets will have to cling to. Mosley, who was smartly rested, might help to ensure Sherwood is able to anticipate rather than react.
The other rookie, Hamsah Nasirildeen, also figures to be in the mix and he fared a little better than Sherwood as he was in on a third down stop and a good open field tackle underneath. He was blocked out at the second level once though.
Blake Cashman got wiped out at the second level on the Eagles' second touchdown, although that may have been more of a failure on the defensive line's part to not hold up at the point of attack. He had a solid second half with a team-high tying five tackles, of which four were near the line of scrimmage, including one behind the line and one in coverage.
Noah Dawkins has been in the mix with the second unit but didn't get many reps here. He had one good open field tackle and stepped in front of a pass on third down to break it up, although perhaps he should have picked it off.
The undrafted Camilo Eifler made a couple of defensive contributions with a run stop in space on the edge and an unblocked quarterback hit on an A-gap blitz.
Del'Shawn Phillips saw his first action and had five defensive tackles, including three near the line and one on third down. Phillips was a step slow on a few plays as he failed to make the stop in the hole and didn't get to the edge in time to prevent the outside run. He was also blocked out on a screen pass and got lucky when he lost contact with his man in coverage on third down, but did draw a holding penalty.
Defensive Backs - Let the Deuce loose
Cornerback was one spot where the starters were not rested with Bryce Hall and Blessuan Austin each starting. Hall made a good play against the run but was called for a personal foul as he was too aggressive at the end of the play. Austin gave up a catch just short of the marker but was in position on an incompletion.
Although any of the other corners on the team could have stepped up and taken a starting role, none have been consistent enough to do so.
Brandin Echols has perhaps been the most consistent of the reserves in preseason but he left the game with a shoulder injury. In this game, he seemed to be out of position a couple of times in zone coverage, although it's always difficult to apportion the blame in such situations.
Lamar Jackson and rookies Isaiah Dunn and Jason Pinnock also saw action on the outside with Jackson giving up a first down and Dunn badly beaten for a long touchdown.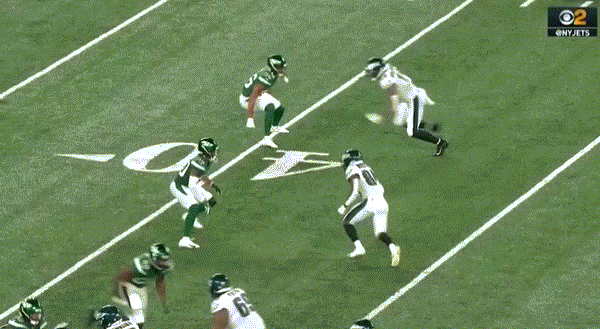 On the play, Dunn is overpowered at the line, late to react to the second break, doesn't get his head turned and is outmuscled at the catchpoint. It's only one play, but underscores areas where he needs to improve.
Pinnock also gave up a couple of first downs in coverage but did strip the ball away from the receiver for a turnover on one of those and also made a good play against the run.
The slot corner battle went to the wire with Deuce Carter starting ahead of Javelin Guidry for the second straight game. Carter blew up a receiver screen with good instincts and made a good open field tackle but was also blocked out of the play on another screen pass. The same thing happened to Guidry in the fourth quarter though.
Elijah Campbell has also been in the mix for the slot cornerback role, but in this game he got into the mix at safety instead. That's a good way for him to show added value. However, his bad missed tackle on the Eagles' third touchdown won't have helped his case. He also got pancaked on a screen pass but did help out Pinnock in stripping the ball loose from the receiver to force a turnover.
Starting safeties Marcus Maye and Lamarcus Joyner did not play and it will be interesting to see what the Jets do at this position with Joyner banged up and Ashtyn Davis apparently unavailable for week one.
Last night's starters, Sharrod Neasman and JT Hassell, are the main candidates to be the third safety on opening day and Neasman was blocked out on the Eagles' touchdown run but otherwise didn't make any obvious mistakes.
Hassell has perhaps shown more playmaking ability and that continued last night as he had a sack and made two stops close to the line. However, he was embarrassed in the open field as he missed the crucial tackle on Boston Scott's long touchdown and had one more missed tackle and a couple of plays where he was out of position in coverage.
Finally, Bennett Jackson saw action off the bench and broke up a pass with a solid hit.
Justin Hardee did not play at all in preseason and, while the Jets would certainly benefit dramatically from his special teams contributions, you have to wonder if there is room for him on the active roster. Hardee only has $1 million in guaranteed money.
Don't go away because we'll have our offensive review later this morning.