In-depth analysis: Bollinger Bowl XVI (Part Two - Offense)
We're breaking down every player's performance in the final preseason game against the Eagles. We broke down the defense earlier today.
Let's review the offensive performances in depth:
Quarterbacks - King James
James Morgan will get the headlines from this game after his Hail Mary as time expired earned the Jets a tie. It also helped his line look a little more respectable because he once again had a slow start.
Morgan ended up with 158 yards and two touchdowns on 13-for-23 passing, with one interception that was controversial because the ball seemed to be stripped away from the receiver after he was down.
He was also intercepted on a two-point conversion, fumbled once and nearly had three other passes picked off, so it was a wildly uneven performance overall. He did showcase a good arm on a couple of throws and diagnosed the coverage quickly on his first touchdown pass down the seam. Has he done enough to warrant staying on the roster, though? And if not, will he clear waivers and land on the practice squad?
Josh Johnson got the start and was lights out. The only one of his eight passes that was incomplete with a quick dump-off that was dropped. Otherwise, he displayed good decision-making and accuracy, also adding a touchdown on a well-placed touch pass on fourth down near the goal line.
The only thing that stopped the Jets offense with Johnson in there was the fact that they insisted on running the ball on third down rather than letting him pass. Still, he got the offense in and out of the huddle efficiently and seemed completely under control, which are traits you would want from your backup during the season.
Starter Zach Wilson was sensibly rested, as was backup Mike White, which some people took to mean that White's spot on the roster is safe. However, coming off a rib injury, it's likely White would have been rested anyway. He did practice in the week, but obviously would have been in a non-contact jersey. We'll see if the team is prepared to consider Johnson or Morgan instead.
Running Backs - Grizzly Adams
With Tevin Coleman rested and La'Mical Perine nursing a foot injury, there were opportunities for the other running backs to stake their claim to being in the rotation during the season.
Ace Carter was held to just 12 yards on seven carries, although he did pick up a first down on a short pass. Carter also had a short yardage conversion.
It was Ty Johnson and Josh Adams that got most of the work, though, and each had positive contributions. The pair actually combined for 115 yards on 25 carries as Johnson averaged over four yards per carry and Adams averaged over five. They also combined for 35 more yards on five catches.
While Adams had the better stats, picking up consistent chunks of yardage with seven of his 12 carries gaining at least five yards, Johnson finished strong on a couple of second half runs and burrowed into the end zone for a touchdown. Adams ran decisively and made a great effort to break the plane on the game-tying two-point conversion.
At fullback, Trevon Wesco had mixed results with his blocking as usual. He clearly missed his assignment on this short yardage run that got blown up.
Wide Receivers - Compliments to the Jeff
It's interesting to see what the Jets will do at the wide receiver positions with Keelan Cole having had a quiet preseason and Denzel Mims missing time though injury. Mims sat again, along with the top three receivers - Corey Davis, Jamison Crowder and Elijah Moore - and Cole just had one short first down catch in limited action.
The other reserves, all of whom seem to bring more to the table on special teams, all got chances to show they deserve a spot.
Vyncint Smith had two first down catches in the first quarter, but his namesake Jeff Smith overshadowed him by racking up 60 yards on five touches, including a 25-yard run on a jet sweep, another first down on a jet sweep and a first down on a screen when Vyncint made a good block.
Each of the Smiths had a bad missed block but they definitely increased their chances of at worst being carried on the practice squad as possible injury reinforcements.
Lawrence Cager had an interesting game. While his numbers were modest with three catches for 21 yards and a touchdown, he seemed to be in the thick of the action throughout.
Cager scored the opening touchdown on an endzone fade as he beat his man well off the line and also made a tough diving catch on a low throw for a first down, although he had to rely on the replay booth to overturn a bad incompletion call.
The replay booth had already seemingly screwed Cager over when they upheld an interception call on a play where Morgan forced it into traffic and it seemed like Cager came up with the contested catch only to have the ball stripped away as he was on the ground. There was also another throw into traffic with was off Cager's hands and almost intercepted.
Cager also had a good downfield block on one play. Maybe he did enough to warrant being retained on the practice squad.
Braxton Berrios saw action but wasn't targeted, although he made a good block on one running play. DJ Montgomery dropped his only target though and his biggest contribution was on a bizarre play where Morgan threw it up for grabs and Montgomery ran over like a deep safety to break it up.
Tight Ends - Kenny the G
What this means for the depth chart is anyone's guess but Chris Herndon saw action in the first half while Tyler Kroft and Ryan Griffin sat out. Griffin has been injured though, of course. No tight end was even targeted in the first half and Herndon was called for an offensive pass interference penalty and had a few missed blocks.
The second half saw much better contributions from the tight ends as Daniel Brown had a nice first down catch and a pancake block.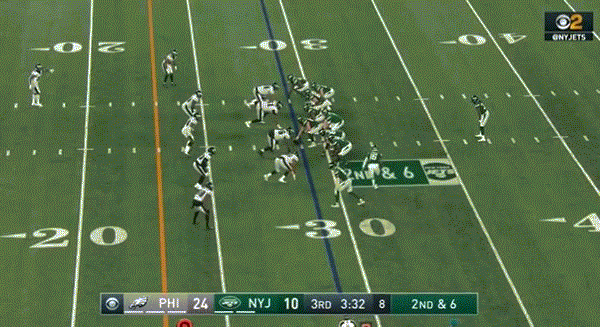 However, Brown did also lose a late fumble that got returned for a touchdown and he had more negatives than positives as a blocker in general.
The breakout performance of the day, however, came from undrafted rookie Kenny Yeboah who ended up with four catches for 100 yards and two scores, including somehow coming up with the game-tying Hail Mary in a crowd.
Prior to that, he scored another touchdown on a blown coverage down the seam and had one other first down catch and, perhaps more importantly for his roster hopes, a couple of solid blocks.
Offensive Linemen - Levin La Vida Loca
With Mekhi Becton destined to be out anyway due to concussion, the Jets rested their three interior starters - Connor McGovern, Greg Van Roten and Alijah Vera-Tucker - but the two candidates for the right tackle role - Morgan Moses and George Fant - both started and played until halftime, with Fant on the left.
Fant was mostly solid, although he let a couple of players into the backfield. He had a good block on a screen, a couple of good run blocks and didn't allow any pressure though. Moses also had a couple of good run blocks but missed one at the point of attack and had a false start.
On the interior Dan Feeney, Jimmy Murray and Corey Levin got the start with Levin playing the entire game at center. Feeney and Murray both saw action at left guard in the second half as David Moore took over at right guard.
Levin was pretty solid in the running game at the point of attack and second level and didn't allow any pressure, although his man drove him back and deflected a pass at one point. He had one reach block that was particularly impressive.
Murray, who was coming off an injury, had a couple of second level blocks but was generally inconsistent in the running game and also gave up a sack.
Feeney had mixed results throughout but did have some impressive moments, including on this play where he and Fant showcased their athleticism.
It had seemed like Murray might have moved ahead of Feeney but the position reversed this week. Maybe Levin gave the team something to think about too.
Moore had a couple of effective blocks in the running game, in each case combining raw technique with his imposing power. He didn't make any obvious mistakes though.
With Conor McDermott and Chuma Edoga still injured, Grant Hermanns took over from Moses at right tackle after halftime and new addition Isaiah Williams filled in at left tackle for Fant.
Hermanns is the last man left standing from the four undrafted rookie linemen signed by the Jets this offseason, although Teton Saltes and Parker Ferguson were obviously hurt before they could really show anything.
Once again, Hermann was pretty solid, although he allowed his man to shed his block to make one play and allowed a couple of late pressures.
In the running game, he had some good blocks, including one where he kicked his man out and then peeled off to make another block at the second level, one where he drove his man off the line on Johnson's touchdown run and this play where he drove his man downhill to set the edge. He could be a good practice squad candidate, depending on the status of McDermott and Edoga.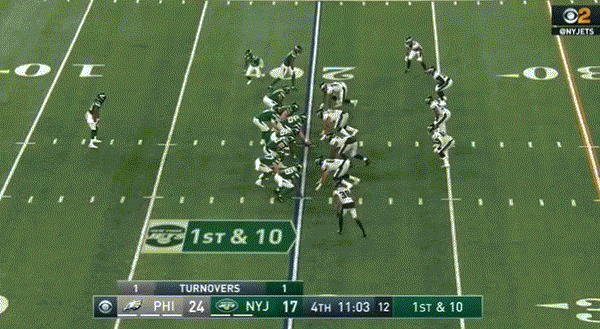 Finally, Williams drove his man off the line a few times in his first game but got stood up once and got beaten for four pressures.
Don't go away, because we'll have our special teams review for you later this afternoon!