Jets "at" Giants: In-depth analysis (Part Three: Special Teams)
We've been breaking down the first preseason game. Earlier, we broke down the offense and defense. Now we wrap up with a look at the special teams.
Let's review the key contributions...
Kick coverage - Sherwood be nice
This may be an over-simplification but it always seems useful to review who is on the field for the opening kickoff, since - barring any key contributors being injured - it gives us a good sense of who the Jets are currently planning to have not only on the roster but also active on gamedays.
Here's who was out there for the Jets. Adjust your roster projections accordingly:
Chris Naggar
Denzel Mims
Sharrod Neasman
Jason Pinnock
Javelin Guidry
Bryce Huff
Deuce Carter
Daniel Brown
Blake Cashman
Jamien Sherwood
JT Hassell
Mims is an interesting one because he didn't play special teams last season, but it would be helpful if he could do so because that will mean he can add extra value if his offensive reps are limited due to the depth of the receiver group. He got downfield well and was in on one tackle and missed the tackle as he almost made another.
The coverage generally was okay but not great. The Giants returned two kickoffs out to about the 25 and had punt returns of 20 and 11 yards.
Guidry, Neasman and Bennett Jackson all had missed tackles on special teams while Thomas Hennessy was blocked to the ground on one play.
Aside from Mims, Sherwood, Hassell, Edmond Robinson and Hamsah Nasirildeen were also credited with special teams tackles. Sherwood's came on a nice hit.
On punts, Pinnock and Carter did a good job as the gunners on one punt and Cashman also got downfield well to force a fair catch.
Robinson downed a punt at the six-yard line but the play of the day on special teams was this one by Vyncint Smith.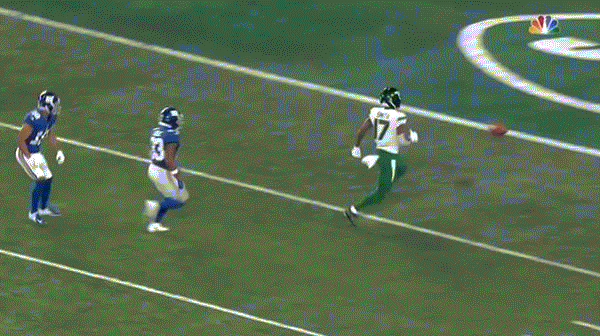 Kicking game - Naggar needs to make Ammends
As noted, Naggar started off as the kicker and got all the work in the first half - a 30-yard field goal and two kickoffs. Both kickoffs were returned, although one was a couple of yards deep.
Matt Ammendola got a chance to kick an extra point and then boomed the ensuing kickoff through the end zone but then when the Jets lined up for a 53-yard field goal, Naggar attempted it. His kick may have been deflected as it was low and hooked wide.
One of Braden Mann's biggest problems last year was that he was too conservative with his directional punting. Too many of his kicks landed around the 15 rather than closer to the goal line. However, in this game he put three inside the 10, including the one that Smith downed at the one.
A possible theory here is that this could be a bit like when a quarterback doesn't trust his receivers so isn't able to "throw them open". Maybe Mann has more faith in this group to go down there and get it so he's more willing to take the chance of it being a touchback. Essentially, he's started making anticipatory kicks.
Of course, the Jets are hoping that the addition of Justin Hardee will help Mann's numbers, but he was out with an injury. Mann did arguably outkick his coverage a little a couple of times.
Return game - Don't put the Cart before the horse
There wasn't much to report from the return game this week, especially on kickoffs as the Giants only kicked off twice and both were touchbacks. Corey Ballentine was back for both of these but maybe someone else (Josh Malone?) would have been scheduled to be back there in the first half.
The Jets didn't do much on punts either as Keelan Cole, who got the initial assignment with Braxton Berrios not playing, fair-caught two and left two to bounce. In the second half, Ace Carter was back there and he worrying juggled the catch on one. He had returns of 10 and four yards.
Ballentine and Jeff Smith got beaten as the Giants stopped these two returns, although Smith's man missed the tackle.
That's it for this week's game. If you'd like us to cover anything in more detail during the week, please let us know.