QuickFix: Saucy Nuggets from the Jets' loss to the Broncos
We're going to kick off today's analysis with some things you might not have noticed from yesterday's loss to the Broncos:
Sam kind of Wonderful
The Jets showed some shades of last season when they marched downfield for a touchdown on their opening drive. However, this wasn't a carefully crafted and scripted drive, as the decisive blow came on a unique 46-yard touchdown run by Sam Darnold.
Sam Darnold escaped an unblocked blitzing LB (A.J. Johnson #45) and broke the pocket, avoiding the sack, and scrambled 62.9 yards for his 46-yard TD on this 3rd and 7.

This was Darnold's 3rd consecutive 3rd down conversion on the ground to start the game.#TakeFlight pic.twitter.com/TgoH2U5MDU

— Next Gen Stats (@NextGenStats) October 2, 2020
How unique exactly? Well, going back through the records on Pro Football Reference's site, we can see that this is the longest run by a Jets quarterback since ... ever.
In fact, only five quarterbacks have ever rushed for 46 yards in a GAME. Al Dorow did this five times, Geno Smith did it three times and Richard Todd, Brooks Bollinger and Kellen Clemens each did it once. None of those had a single run of 46 yards though, with Dorow's 40, almost 60 years ago, coming closest.
There's one caveat to that and it's that Brad Smith once took a direct snap and went off on a 57-yard run back in 2009. However, although he was the quarterback on that play, he was really just a wide receiver masquerading as one, because Mark Sanchez was on the field at wide receiver at the time.
Prior to yesterday, the longest quarterback run in franchise history should have belonged to Brett Favre of all people. However, on this hilarious play that should have been a 41-yard touchdown he didn't even make it 25 because he's so slow and Wayne Hunter can't block in space.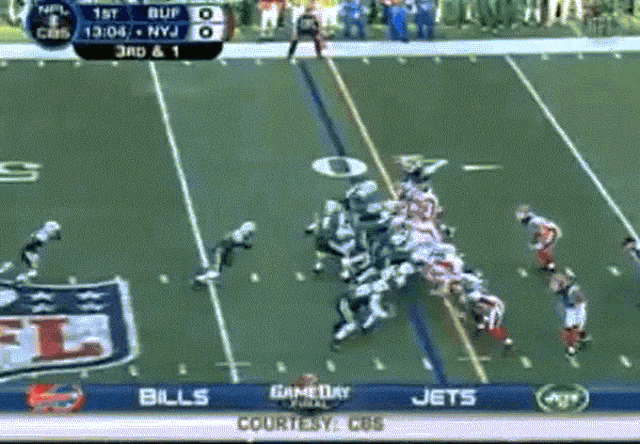 Really, though, Darnold's spectacular run was a one-off. Unless, of course, he starts doing this kind of thing on a regular basis...
20/20 vision
Midway through the third quarter, Melvin Gordon took off on a 19-yard run that was striking in its simplicity.
The left guard and left tackle double teamed Quinnen Williams at the point of attack and the tight end kicked out the edge on that side. The right guard pulled and made a clean block on one linebacker in the hole and the other one got sealed to the inside as the left tackle worked upfield off the combo block. The wide receiver did a good enough job on the outside and Melvin Gordon hit the hole and didn't even need to break a tackle although he side-stepped at the last minute so the safety couldn't stop his progress, allowing him to dive ahead and fall forwards for four or five extra yards at the end of the run.
It shouldn't be difficult for each of these players to do their job to create a run like this, but the Jets haven't had a running back carry for a 20-yard gain since 2018.
It's true. Last year, the Jets had just two 20-yard runs on a Darnold scramble and a Vyncint Smith end-around. And so far this year, Darnold's touchdown scramble has been their only 20-yard rush.
By contrast, the Jets - despite having a pretty good run defense - have given up four runs of 20 yards or more already in the first four games - and last year they gave up eight.
The Jets were regarded as having a terrible offensive line in 2018, but five different players broke a run of 20 yards or more and they had 11 in total. In fact they had four in the Denver game in week five alone - more than they've had in 20 games since the end of the 2018 season.
And that game, until Darnold's touchdown scramble, was also the last time they had a 40-yard run. In fact, Isaiah Crowell had two of them, along with another long touchdown in the season opener.
Gore! (Uhhh!) What is he good for?
Perhaps linked to the above point is the fact that Frank Gore is still getting most of the work at running back and he turned in a pedestrian display last night with no gain of longer than six yards on his 14 touches.
The fact he's lost a step was apparent on his first half catch where he probably should have just turned upfield and dragged the defender for an easy eight-to-10 yards but he tried to cut back.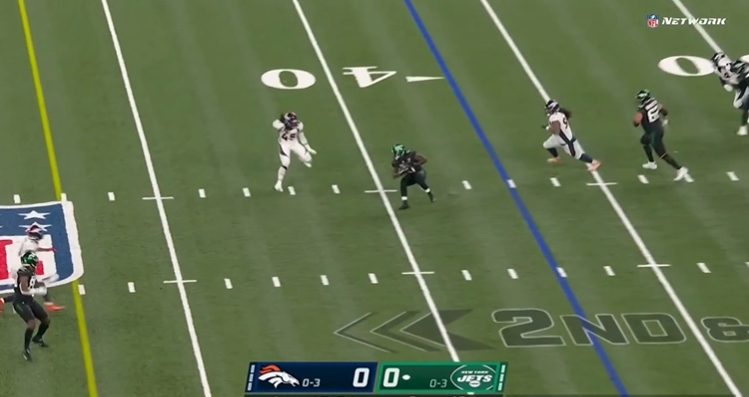 Had he executed this, he might have broken a bigger play, but all that happened was that he got hit from behind by a defensive lineman and almost lost a fumble - one of two occasions where he was ruled down after losing the ball at the end of a play.
Otherwise, his uninspiring play led to more calls for La'Mical Perine and even Kalen Ballage to get more reps. However, they hardly shined whenever they did get in the game. Perine looked unimpressive for the second straight gain as he made just 15 yards on five carries and Ballage had just two short catches and no carries.
The bigger issue with Ballage was his pass protection, which saw him make a number of costly mistakes leading to pressure, including a late sack. He did, however, screw up the protection on the Darnold touchdown run, cleverly sabotaging whatever the play call was and allowing Darnold's instincts to take over.
The Jets will welcome Le'Veon Bell back for the next game. Let's not forget, however, that he's been pretty pedestrian himself as a Jet.