QuickFix: Saucy Nuggets from the Jets' loss to the Dolphins
We're going to kick off today's analysis with some things you might not have noticed from yesterday's loss to the Dolphins:
Kyle provides a Fillip for the run defense
The Jets had to show some improvement in their run defense this week after rough displays in three of their last four games.
In the end, Miami - who entered the game dead last in the NFL for rushing yards - rushed for 112 yards, their third highest total of the season. However, the Jets held them to 3.5 yards per carry. The longest run - a 20-yarder - was bounced outside on a play where Isaiah Dunn lost contain.
Once again, the Jets didn't make any changes to their system, but did make some personnel changes. First of all, starting linebacker Jarrad Davis was reduced to a part time role, barely seeing any action at all. Tellingly, when CJ Mosley got injured in the fourth quarter, the Jets turned to Del'Shawn Phillips rather than Davis to wear the headset and take over in a full time role.
This seems like an indirect admission from the Jets' staff that Davis has been one of the main problems over the past few weeks. This was obviously the case as his gap discipline has been poor, and directly led to several big runs. Davis, who missed the first half of the season, was clearly struggling to get to grips with the system. Quincy Williams got the call instead, although he also got injured later on. Davis played a total of nine snaps late but might not have played at all without the injuries.
Another change was that recent acquisition Elijah Riley was entered into the starting lineup at safety. Before Sunday, Riley had played just four defensive snaps in his career. However, he was a productive tackler with over 200 tackles in his college career at Army and a willingness to contribute in run support. That was on full display on Sunday as he was aggressive coming up into the box and also lined up as an extra linebacker at times. Riley was in on run stops on four plays that gains four or fewer yards.
The final personnel change was that Kyle Phillips was back, making his first defensive appearance since his Achilles injury last October. Whether Phillips was getting his shot now because of what he brings to the table or the Jets were always going to add him into the rotation as soon as he was ready is unclear. However, from his performance against the run, you got an immediate sense of what was lacking from the defensive ends in these past few games.
The defensive tackles and the way they are used in Robert Saleh's system have both come in for plenty of criticism as the same thing would keep happening; The defensive tackles penetrate, the linebackers get blocked off at the second level and there's nobody filling in to prevent runners from hitting the hole at speed to potentially break into the clear.
One thing that hasn't been happening is that the ends haven't been pinching in to bottle up runs between the tackles or penetrating upfield to force outside runs to cut back into traffic.
Immediately, Phillips' aggressiveness coming downhill or engaging his man at the point of attack stood out:
What's key to consider on these plays is how if Phillips had been kicked out or stonewalled at the point of attack as players like Jabari Zuniga and Tim Ward were on some of those long runs in the Colts game, there would have been plenty of room for the runner to get to the second level. However, this is how it's supposed to work.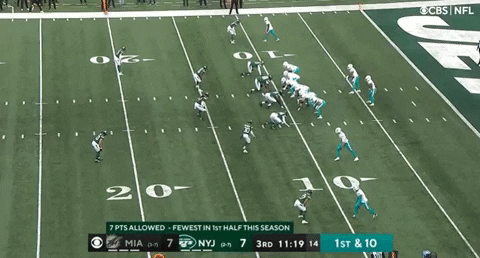 He even had a play where he lined up inside - with Nathan Shepherd outside - that saw him penetrate, shed the block and trip the runner for a loss in the backfield.
Finally, we already noted last week that Ronald Blair's inclusion in the rotation was probably also designed to shore up the running game and he again contributed, although bizarrely all five of his tackles, including four run stuffs close to the line of scrimmage, came in the fourth quarter.
Value for money?
The Jets spent plenty of money on veterans in the offseason, but what do they actually have to show for this?
Not including minimum salary signings, here's the contribution each veteran addition made to Sunday's game:
LB Jarrad Davis: Barely played, zero tackles
CB/ST Justin Hardee: No defensive snaps, one special teams tackle
EDGE Carl Lawson: Out for the season, on IR
WR Corey Davis: Three catches for 35 yards
DB Lamarcus Joyner: Out for the season, on IR
OL Dan Feeney: Only played a few jumbo package snaps
TE Tyler Kroft: On IR
DT Sheldon Rankins: Rotational role off the bench, three tackles
RB Tevin Coleman: 20 yards on six touches, two kick returns for 49 yards
WR Keenan Cole: No catches on one target
DE Vinny Curry: Out for the season, on NFI
OT Morgan Moses: Started and had a solid game in pass protection with mixed results in the running game
The combined cap hits for these players in 2021? $59 million - that's almost one-third of the salary cap. The worst part is that none of these moves were bad ones on paper and they've had some terrible luck with injuries. A few of these players are making good contributions over the course of the season. On Sunday, though, they barely produced anything as a group.
Maybe building through free agency isn't the best approach to building a roster - especially when many of the players who did contribute in this one were acquired via trades or waiver claims, or are former draft picks.
That's a shame because the Jets might be big spenders in the offseason, especially if pressure continues to build on the front office to show tangible progress. Hopefully they have better luck this time and can still get some valuable contributions from this year's free agency haul.
Even Moore progress than before
On a lighter note, Elijah Moore's ascension continued as he showed better route running, hands and after the catch abilities in this game than in any other and it translated to the stat sheet with a career-best 141 yards on eight catches, including another touchdown on the longest play of his career.
He might even have had an even bigger game had Joe Flacco thrown the ball his way on this play where he got behind the defense: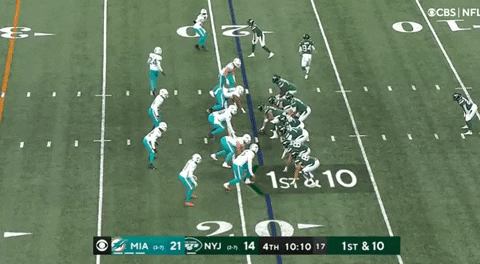 Check out the very real progress he has made though. If this curve continues upwards he could end up in the mix for all-rookie honors. In fact, even if it plateaus here, he could be approaching a thousand-yard season by the end of the year.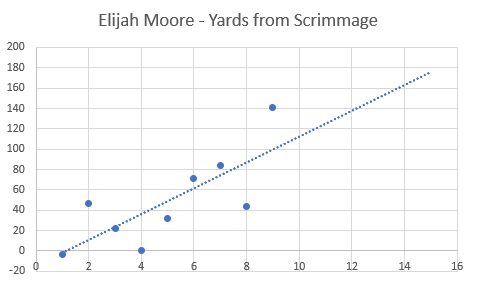 The Doctor is real in
Let's give a quick mention to Laurent Duvernay-Tardif getting a start over Greg Van Roten. It seems harsh to assume the Jets are completely down on Van Roten, who has played better this year than many other Jets linemen over the years who confoundingly stayed in the lineup, but at the same time, it's good that the Jets aren't resting on their laurels as they continue to try and bolster this group.
We'll explore Duvernay-Tardif's performance in more detail in this week's 3-on-O article but he made some good blocks in the running game and only gave up a few pressures and a sack on a stunt.
One concern was that changing up the starting unit which has been intact for most of the year would mess up the chemistry and cohesion on the unit and that may well have contributed to the fact that there were more unblocked rushers than usual.
Of course, this would perhaps have been expected anyway because Miami is a defense that runs a lot of zero blitzes and, as such, putting a smart veteran like Duvernay-Tardif into the lineup for that game might have been something the team felt was important. (They may even also have felt that Joe Flacco was the right quarterback to deal with this too, but we know the company line on this one).
You wouldn't ordinarily make a matchup-based change on the offensive line (or at quarterback) because continuity is so important. However, if you have players with different strengths and weaknesses, maybe this is something teams could do more often. We'd anticipate Duvernay-Tardif will remain as a starter for the time being anyway.
Here's one last look at a play where the offensive line screwed up, although it doesn't seem like Duvernay-Tardif was the one at fault here. Why did nobody block the defensive end?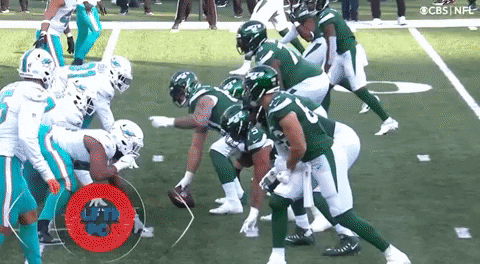 It's not immediately obvious, but it looks like this play was designed for Ryan Griffin to pull across the formation and make that block on the other edge. That would've given this run the room to make positive yardage. Unfortunately he runs right into George Fant. SHEESH.
As for what Fant should've done, he obviously either needed to fire off the line to clear out of Griffin's way or maybe even was supposed to pull right himself.
We'll be looking out for more short term dysfunction like this when Mekhi Becton returns and the configuration of the group changes again, even as the talent level improves.
---
We'll have some more in-depth analysis for you throughout the rest of today and over the next few days, so keep checking back here early and often.