Three on D: Echols, Carter, Nasirildeen
After each game, we'll be highlighting three defensive and three offensive players and looking in detail at their performance. We'll wrap up today with the defense:
Conducting an Echological Dig
Brandin Echols had a rough start to the offseason, falling down the depth chart and leading to some in Florham Park thinking he was a candidate to be released. However, he turned things around and, following Blessuan Austin's release, ended up as the opening day starter.
In game one, Echols held up quite well as he got about two-thirds of the reps on the outside with Javelin Guidry getting the rest. Isaiah Dunn didn't get any defensive reps and Jason Pinnock were inactive but either could get in the mix at some point.
Echols gave up a first down on his first target as he was too far off his man, setting up an easy back shoulder throw. However, he then made a good open field tackle underneath on his next target and later shoved the tight end out of bounds short of the market on 2nd-and-6.
He made a play here, closing well to disrupt on a throw to the end zone, but it looked like he gave the tight end too much room and this probably should have been a touchdown if it was a decent throw.
Echols didn't have a missed tackle or a penalty and ultimately only gave up 26 yards and one first down on five targets.
So, all in all, not a bad debut from the rookie. However, did he cost them a chance to potentially get the ball back down seven with about a minute to go?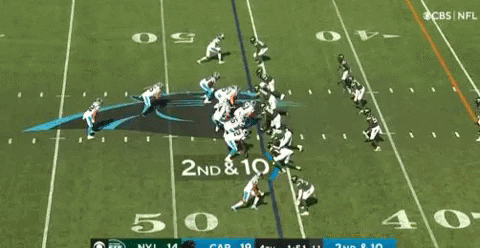 As you can see, Echols is too preoccupied with staying on Robby Anderson and not alert to the fact Christian McCaffrey is rushing over to his side where he would have been in position to make the stop short of the marker. If Echols could have realized that and forced Carolina into a third down situation, they might have had one more chance to win it.
Presumably Echols did enough to keep his job in game two, but he needs to display better awareness in all aspects of the game as the season progresses.
The Deuce is Loose
Deuce Carter's debut went well as the starting nickelback was on the field for just over half of the snaps as the Jets were in base more than they likely will be against most opponents.
Carter ended up with five tackles, including a tackle for loss and a pass defensed.
Here's his tackle for loss. Note how he defeats the block to gain outside leverage. That's notable because the Panthers ran several plays where they were able to seal Jets defenders to the inside in similar situations.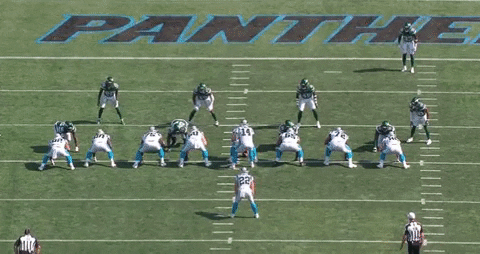 In coverage, Carter only gave up 17 yards on five targets. However, this included a third down conversion as he gave DJ Moore too much room underneath. There was also an incompletion on a wide throw in the red zone where the receiver had half a step on him and would have scored on a more accurate throw. He also got blocked off on a screen pass.
He passed his biggest test, though, getting his head turned well on 3rd-and-5 and competing well at the catchpoint to break up the pass thrown up for Terrace Marshall by the sideline.
The Patriots are probably going to dink and dunk a lot on Sunday, so look for them to target Carter in space. Hopefully the rookie can hold up as well as he did against the Panthers.
'Deen Machine
We wrap up today with a look at yet another rookie. Hamsah Nasirildeen played 35 snaps as the strong side linebacker and was credited with three tackles including one on special teams.
This is probably more snaps than he will play against most opponents because he only really saw action when the team were in base. Even though Jamien Sherwood and Blake Cashman got injured, he didn't get any extra reps as a result, although he was out there for a couple of extra plays at Will when CJ Mosley left the field.
Nasirildeen's best play might have been the one above where Carter made the stop on the edge. He didn't make the play himself but helped to stretch the play out to the sideline for a six yard loss. However, he stumbled slightly and failed to make the tackle as his angle was over-aggressive and if Carter had been blocked out of the play, this could have proved costly.
The Panthers ran at Nasirildeen (and, notably, away from CJ Mosley) quite a lot when he was in the game. They saw good success when they did this, as he was blocked out of two plays at the second level and two more on the edge. He also had a missed tackle in the hole.
He's the outermost player and responsible for the edge here on 3rd-and-1, but lets the tight end jump out to his outside shoulder to seal him off.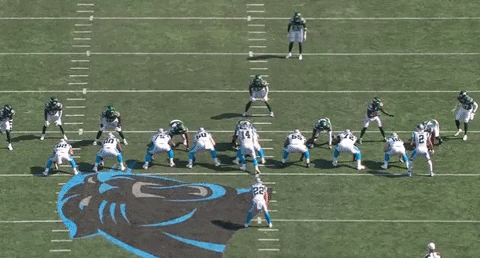 Nasirildeen's two tackles were both several yards downfield but in each case short of the marker and he had a good play cleaning up after a couple of teammates missed their tackle on a punt return. He also drew a hold to negate an 18-yard gain on a screen pass and wasn't targeted directly in coverage.
It was an inauspicious debut for Nasirildeen, but with so many injuries at linebacker, he's going to need to keep improving on the fly over the next few games.
Previously - Three on O: Wilson, Moore, Fant