Three on D: Echols, Maye, Quinnen Williams
After each game, we'll be highlighting three defensive and three offensive players and looking in detail at their performance. We'll wrap up today with the defense:
For the Brand
Rookie cornerback Brandin Echols has held up reasonably well in the first few games, at times splitting reps with Javelin Guidry. However, Sunday's game might indicate he's about to enter a crucial phase of his rookie season.
The Broncos went after him a few times down the field and had some good success, which may lead to him being tested a lot more often in the coming weeks. If he can make some plays and limit what he gives up, Echols will establish himself as a potential long term contributor. However, if he gives up a lot of big plays, he might lose reps to some of the Jets' other young corners.
In the first two snaps for the Broncos, Echols was immediately targeted on a short route to the flat and then one over the middle, first for a six yard gain and then for a first down.
He actually only gave up one other catch, but it was a big one, as Tim Patrick caught a deep ball down to the one-yard line with Echols late to get his head turned and struggling to locate the ball.
On a similar play, the Broncos got down to the goal line when Echols was called for pass interference on Courtland Sutton at the pylon, as he was again late to get his head turned with hands all over the receiver. A rookie can't expect to get away with that against established veterans like Sutton.
With these successes, you might expect the Broncos to go after Echols a bit more, but they only attempted eight passes in the second half - with all eight being completed for 107 yards - so it wasn't like they needed to with a big lead. Other teams in the coming weeks might view any established veteran that Echols matched up with as an exploitable matchup though.
It wasn't all negatives from Echols, who was credited with a pass breakup as he closed on a jump ball to KJ Hamler. However, Hamler almost came down with the ball and might have had another big gain if he didn't get injured on the play.
Echols had one missed tackle and was blocked out of a play downfield, but made this good run stop. What's encouraging here is that Echols takes a smart angle that ensures contain is maintained and the runner has to cut back into the defense. That shows he understands his main priority.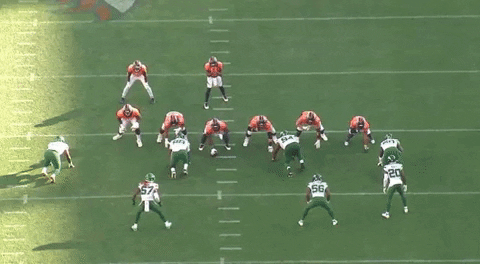 Echols has had some positives and negatives, even dating back to preseason where he had an interception, a pass breakup and a pass interference call on a deep ball but didn't give much up. As the sample size expands, we'll get a better idea of his potential.
If I Maye be so bold
Marcus Maye's third game of the year continues a pattern where he will make a few nice plays but not as many as you'd like, while also making a few mistakes you'd prefer not to see from him.
It was a productive game from Maye, who was credited with nine tackles including four within four yards of the line of scrimmage. He came from deep to make a nice hit here, although he lined up in the box or in the slot the majority of the time.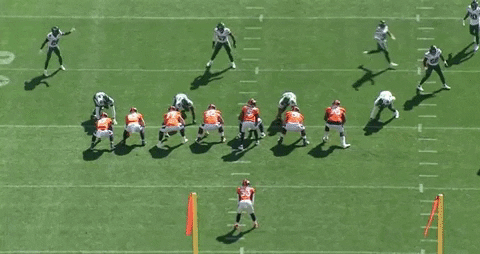 In terms of negatives, Maye had a personal foul while making a tackle to add on 15 yards at the end of a play for the second week in a row. He was also involved in a coverage mix-up with Bryce Hall on third down which let a Broncos player get open for a 28 yard catch.
Maye also missed a couple of tackles, although in each case someone right behind him made the tackle immediately so they weren't particularly costly.
In Maye's defense, he's probably exposed more often than he otherwise would be if there weren't so many reserves seeing regular playing time due to injuries. However, the hope was that he'd step up and prove he was worthy of being a franchise-level player and so far he's not been able to do that.
Yasss Quinnen
Quinnen Williams made a bit of a statement this week as he recorded 1.5 sacks and two run stuffs, including this one where he shed Dalton Risner's block in dominant fashion:
Williams also added an interior pressure, flushed Teddy Bridgewater from the pocket a few times and penetrated well on one run stuff.
While he was sealed off on one run and driven off the line once, it was a solid performance on balance and easily his best of the season so far.
Even so, he still doesn't quite look 100 percent. The explosiveness is there a couple of times a game, but not with any level of consistency. He also looked really slow in space when chasing after Bridgewater.
The fact Williams only had 35 snaps - less than he had in all but two of last season's games - could be a sign that the team is still working him back into a full time role. Williams averaged over 45 snaps a game last year and played 50 or more five times.
This game was definitely a good sign that he's moving in the right direction and hopefully indicates that there will be much more to come if he remains healthy. He's definitely trending upwards and as he gets back into midseason shape and becomes more comfortable with the system this should hopefully lead to more dominance from Williams in the weeks to come.
Previously - Three on O: McGovern, Davis, Johnson