Three on D: Langi, Desir, Maye
After each game, we've been highlighting three defensive and three offensive players and looking in detail at their performance. We'll conclude today with the defense:
Before we do, however, some bonus offensive analysis content!
Due to a delay in providing the all-22 footage by the NFL, we were unable to bring you these looks in our 3-on-O article, but they provide some interesting insights...
First of all, check out this excellent reach block by Connor McGovern. Generally, this is a well-blocked play but it doesn't pop for a bigger gain because Mekhi Becton is unable to make his own reach block. Almost, though...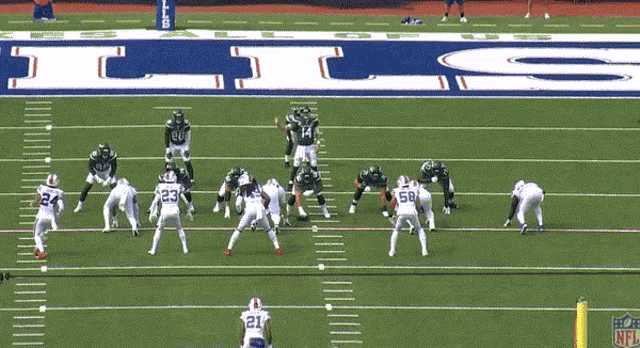 Speaking of almost, check out how much green grass Le'Veon Bell had in front of him if he didn't get caught from behind on the third quarter screen that came after his hamstring injury. Bell likely would have surpassed his longest play as a Jet (23 yards) if he'd been healthy enough to burst upfield there.
Finally, here's a better look at Jamison Crowder's ankle-breaking route in the third quarter. Darnold's throw is clearly late, but that's because it was a low snap.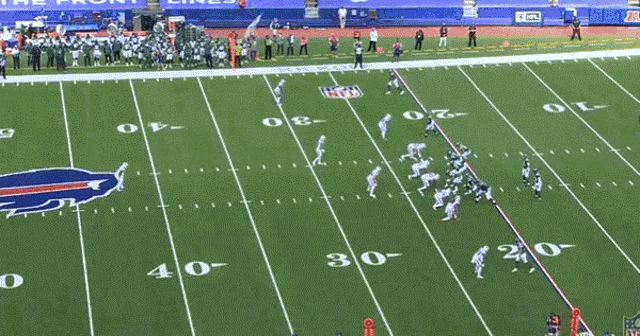 So, let's now move onto the three defensive players we're focusing today...
Langi Live the King!
It obviously wasn't part of the plan for Harvey Langi to play almost the entire game at inside linebacker, but the Jets had little choice after Blake Cashman got injured on the third defensive snap of the game.
Langi has had an interesting career since the Patriots drafted him as an undrafted free agent in 2017. He looked set to be a contributor as a rookie, but barely got a chance to play before suffering season ending injuries in a car accident a month after his debut.
Since then, he spent most of the 2018 season on the Jets' practice squad and then played every game last year in a utility role, recording half of his 16 tackles on special teams and making three starts.
Sunday's game was easily the biggest workload of his career, though, as he played 83 snaps, almost four times as many as his previous high.
Officially, Langi was credited with six tackles and a pass defensed. Three of those tackles came within four yards of the line of scrimmage including a stop in the flat.
His pass defensed was a key play as it forced the Bills to settle for a field goal, which they missed. Langi did well to stay with the wheel route and not get flagged as he got his hand up to deflect the ball.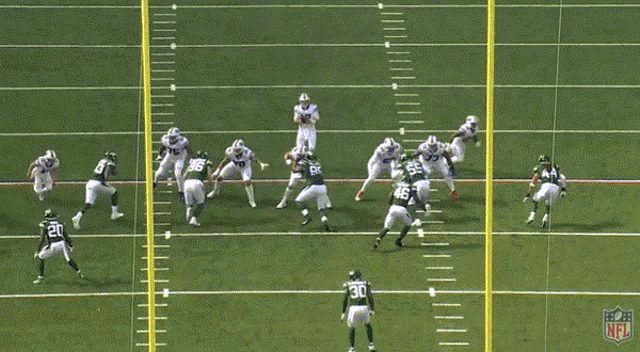 He generally did a good job of limiting yardage on underneath passes and didn't give up a first down in coverage, although he was blocked out of the play on a screen pass and vacated his zone to chase Josh Allen from the pocket on his first half touchdown pass.
The bigger negative from Langi was in terms of his tackling. It could have been a much bigger game from him if he finished better, but he missed two tackles in the backfield and let a ball carrier slip away from him on two other plays. He was also blocked out of the play on three runs in the first half, including an Allen keeper.
Langi didn't just play inside linebacker, as the Jets also used him in his more familiar role on the edge and instead put a defensive back into the box for a more conventional base look with nickel personnel. As a pass rusher, Langi had a couple of pressures, including one off the edge, which was notable because he only previously had one pressure in his career.
Langi was also one of the leaders in terms of special teams snaps, as usual, but had another missed tackle and allowed pressure on a punt rush. This is somewhere the Jets will be relying on him to be more consistent because they'll hope this will be his primary role from here on out. Nevertheless, the versatility is useful and he looks set to be this year's Brandon Copeland.
Pierre of Desperation
Pierre Desir's first game as a Jet was a rough one. He was benched after he was penalized twice, got beaten for two first downs and was involved in the blown coverages on each of Allen's two touchdown passes.
The first of Desir's two penalties saw him grab his man at the back of the end zone, preventing his man from making a play on a high throw. The other was a 33-yard call for pass interference and seemed somewhat harsh. It was physical coverage from Desir, but he was in good position, looked back for the ball and it seemed like the receiver initiated as much of the contact as he did.
The two first downs he gave up in coverage, one of which came on 3rd-and-long, both saw him playing too far off Stefon Diggs on an out-breaking route.
That was the issue on John Brown's touchdown too. With Desir almost 10 yards off and on his heels, Allen dumped it to Brown in the flat and an offensive lineman was able to get out in front to prevent Desir from getting anywhere near him. Brown was able to run untouched up the middle for a 17-yard touchdown.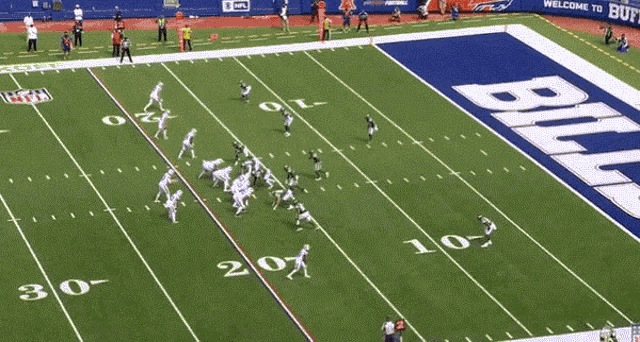 The earlier touchdown came against zone coverage as running back Zack Moss was initially bracketed underneath near the goal line by Langi and Tarell Basham. However, they both chased Allen from the pocket and Desir wasn't able to come up and pick up Moss in time.
It's difficult to find any positives from this game but one thing Desir did well was run support as he had a run stop near the line and was in on another one in the backfield. That first play still went for a first down though.
The Jets will hope that Desir was a little off his game having missed most of training camp and that he'll rediscover his form as the season progresses. For now, they have other options to use in his place.
Devil Maye Care
Finishing on a more positive note, the Jets got good contributions from Marcus Maye, who they employed in Jamal Adams' old role while Bradley McDougald played Maye's old deep safety role.
Maye played the same role in the Miami and Baltimore games last season, while Adams was injured, but this was a much more effective effort from him.
His biggest contribution came as a pass rusher. Maye rushed more than he ever has in a game before and recorded two sacks and a pressure. Unlike most of the Jets' edges, Maye made the most of his opportunities to bring Allen down although he still whiffed on one potential sack.
Maye ended up with 10 tackles to lead the Jets, as he was in on two run stops near the line and a stop on a short pass to the flat. He missed two tackles and overpursued on an Allen first down keeper though.
In coverage, Maye had two passes defensed, one as he got his hands up to deflect Allen's pass on a blitz and another on a well-timed breakup in the end zone.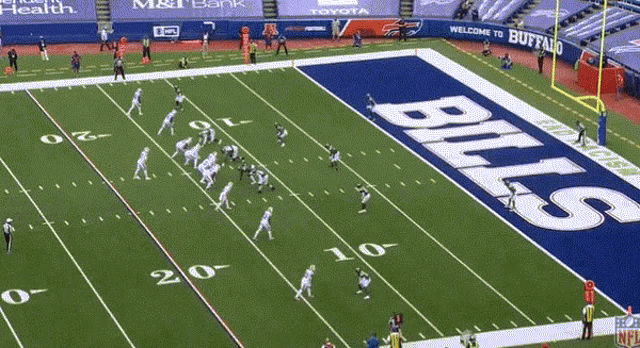 He was targeted for a first down late, though and got caught out a couple of times in zone coverage, including on Brown's touchdown where he was blocked out of the play.
In terms of playmaking this was probably the best game of Maye's career and he did a good job of limiting any mistakes. While it's unlikely he will be able to completely replace Adams, if he can be an approximation of what Adams was, the the Jets will probably be better off with Maye and those extra draft picks than they would have been if they extended Adams which could have perhaps reduced their chances of retaining Maye and left them with fewer assets.
Of course, they will need to hit on those picks to make this a reality though.
Previously - Three on O: McGovern, Crowder, Van Roten