Three on O: Berrios, Conklin, Mims
After each game, we'll be highlighting three defensive and three offensive players and looking in detail at their performance. We'll wrap up today with the offense:
Anti-Braxxer Sentiment
There has been some discussion this week - led by Bart Scott on SNY - that Braxton Berrios should have a reduced role on offense. The timing of this seems a bit strange because he's only had seven touches in the past six games, but presumably it's a reaction to the fact he was unsuccessfully targeted in the red zone a couple of times recently, including on fourth down at the goal line in the Vikings game.
Berrios has only played 30 percent of the snaps this year - less than last year's 38 percent (although that's not really a direct comparison because he had a full-time role at the end of the year to boost that total). Nevertheless, his role has been reducing anyway since Elijah Moore returned to action. Berrios has averaged less than 15 snaps per game over the last four games. In other words, it sounds like the reduction of his role is already happening.
Despite the reduced role, Berrios made a nice contested third down catch to set up a touchdown in the third quarter on Sunday.
Overall, though, he has less than 200 yards from scrimmage. He's rushed for two scores and thrown one, but the last of these was in week six.
What seems to be getting the attention, though is the fact that a red zone throw ricocheted off his helmet on Sunday as Mike White tried to thread the needle between three defenders. Not an easy play, but counted as a drop nevertheless. This was only Berrios' second drop of the season though. (The play against the Vikings, which he could still have come up with, doesn't officially count as a drop because a defender knocked it out of his hands).
Berrios hasn't been featured much in the passing game, other than on occasional receiver screens and has primarily been used as a decoy, often in jet sweep motion. However, he proved at the end of last year that he can produce if given a bigger role.
His performance in the return game has also come under fire, despite the fact he's in top five for both punt and kick return average. That's even without breaking one, which you'll recall was the case last season. He didn't break a 40 yard kickoff return until week 13 and didn't break a 20 yard punt return until week 14.
That he's still among the league leaders in both categories - again - without any big returns to skew that average speaks to his reliability in that role. In addition, he leads the league (for the third year out of four) in fair catches, which means that any criticism of the fact that he let a couple of punts bounce this week and one rolled down to the goal line ignores the fact that he does this less than any other return man in the league. And the final, most important point, is that he has only lost one muff/fumble in his entire career (including college).
From the time the Jets lost Jim Leonhard to the time they got Berrios they've been desperate for a return man that provides them security and isn't going to lose them a game with an ill-timed turnover. That he adds some productive return abilities to this makes him one of the more valuable return men in the league which means that even though he's just a reserve in the passing game, he's good value for money at $6 million per year.
Berrios is good friends with Zach Wilson and apparently has a bit of a "Hollywood" demeanor but there's no suggestion that he's any kind of character concern. In fact, the coaching staff lauded how well he knew the offense when he had a productive several weeks with everyone injured at the end of last season.
While Berrios' statistical production has been lower than expected, that's largely because there are so many other good weapons on the offense and, until recently, the team was leaning on its running game. Any suggestion he should be used even less seems like an overreaction to one or two plays that weren't even entirely his fault and the team almost certainly is planning for him to be back.
Conk-rete Hands
Tyler Conklin is another player who the fans seem to have turned on. It seems surprising that he's racked up 45 catches because his impact somehow seems less than this.
For sure, he didn't have much impact on Sunday despite making five catches. None of these five went for a first down, he racked up just 5.6 yards per catch and there were a couple of misses on plays where he was open but the quarterback threw behind him.
Like Berrios though, a salary of $7 million a year for a functional guy who produces in volume, is a good locker room guy and can handle the duties of his role probably isn't seen as excessive by the front office.
So far, Conklin has earned himself a reputation as someone with inconsistent hands, although he actually only has four drops on the season. The Jets' leader in that category is actually still Breece Hall.
Conklin has been an inconsistent blocker, though, and Sunday was perhaps his worst game in that role. The offensive line came in for a lot of criticism, but actually no lineman gave up more than two total pressures. Conklin gave up more than that despite only staying in to pass protect five times.
On a couple of those plays, including this sack, Conklin was tasked with coming across the formation to block a player coming off the edge and didn't get there in time.
He also didn't do a particularly good job in the running game. Here's a play where his man got off his block to make the stop.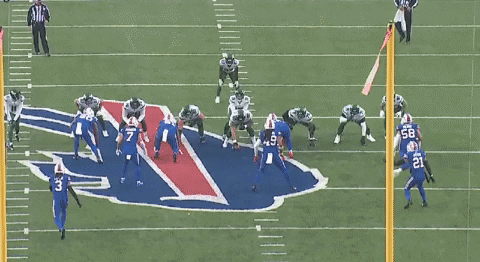 If someone like Jeremy Ruckert or Kenny Yeboah stepped up and had a monster preseason next year, perhaps you would entertain trading or releasing someone like Conklin. This seems less likely with Yeboah, who the team likely just views as a depth guy who knows the system. It could feasibly have happened with Lawrence Cager, had he stuck around, though. Either way, that doesn't seem likely to be Plan A heading into camp next season.
Buy or Denzel?
With Corey Davis going down early, Denzel Mims got another chance to step up as he was in for a season-high 51 snaps and made a season-high three catches.
Here's Mims breaking across the middle and getting open for a first down conversion: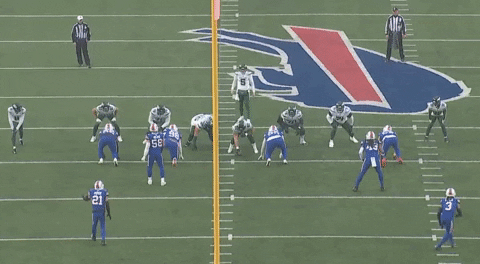 On this play, he uses his speed on the crosser and perhaps might have been able to turn this into a bigger gain if the pass wasn't behind him. He made a good adjustment on the ball though.
Mims' only other catch was on 3rd-and-10 as he came up just shy of the first down marker on an underneath grab. He also didn't have any standout blocking contributions this week - as he often does - but was also penalty-free for the fourth straight game.
It's not much, but it's something - and from a player who didn't look like he was going to give them anything this year. Ironically, the whole Moore trade demand scenario gave Mims - who, of course, had made his own trade demand before the season - the opportunity and he's done enough to be a regular contributor, moving ahead of Jeff Smith.
The Jets have Mims under contract for another year and hopefully he can continue to build on the positive contributions he's been able to make since getting back on the field.
Previously: Three on D: Mosley, Rankins, Adams