Three on O: Fant, Berrios, Herndon
After each game, we've been highlighting three defensive and three offensive players and looking in detail at their performance. We'll conclude today with the offense:
Fantasy Island
Mekhi Becton has been getting all the attention - and deservedly so - but how is the Jets' other new tackle getting on? Not too bad so far.
When the Jets brought in George Fant, some were surprised that they invested such a large contract into a player who had yet to establish himself as a full-time starter. However, Fant's film showed he had clearly developed over the course of his career and that he was hopefully ready to get his shot.
In Sunday's game, Fant once again did a pretty good job of limiting pressure, although Arik Armstead did beat him twice, including on this sack: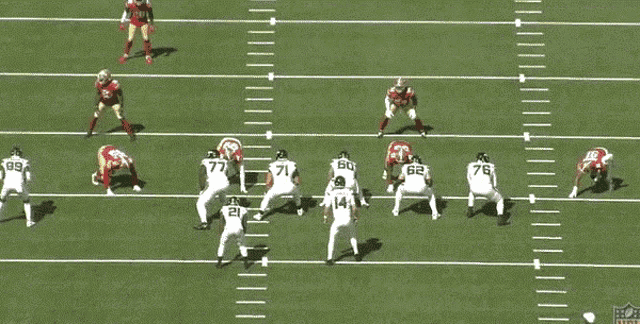 On the play, Armstead transitions smoothly into a rip move, showing refined technique reminiscent of his teammate Nick Bosa. Back in 2018, Bosa got hurt but Chase Young emerged from his shadow partly because he worked so hard at copying and refining Bosa's textbook techniques. It would be a good bet to expect Armstead to do the same if he can stay healthy.
There's no shame in getting beaten by Armstead, who also worked upfield and then threw Fant's block aside to record an early hit on Darnold. Armstead had 10 sacks last season and could end up with even more in 2020 if he continues to show technique as good as this.
This is supposed to be about Fant though and he did a solid job in pass protection despite these plays.
He is making good contributions in the running game too. Here's one of his best reps from Sunday as he works the combo block and then does what Greg Van Roten later failed to do on fourth down and seals off the linebacker at the second level.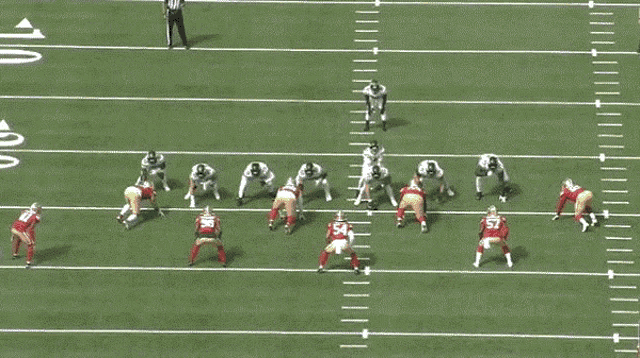 He had a couple more good run blocks and didn't make many mistakes, although there was one play where he didn't sustain his block and his man got in on the stop.
So, Fant is holding up reasonably well so far. However, with Becton having exceeded expectations so far, it might be in his role as a mentor for the rookie that Fant is really proving worth the investment.
Baby Got Brax
Braxton Berrios got the start with Jamison Crowder out, giving him a good chance to prove he deserves to be in the mix once Crowder is back. In all, he did a pretty good job.
The results were good on the face of it, with Berrios catching six passes for 59 yards and a touchdown. However, over half of those yards came on the broken play that led to a garbage time touchdown. While Berrios deserves credit for finding an open area once the play broke down, his production to that point had been modest, with just 29 yards on five catches.
Nevertheless, he made some good plays, including two first downs, and could easily have had a bigger day because he was open on a few other occasions. He was also used as a decoy a lot, constantly being put in motion, including on some jetsweeps where he didn't get the ball and on Josh Malone's end around where he motioned into the backfield before the snap.
Until his touchdown, this was Berrios' longest catch of the day: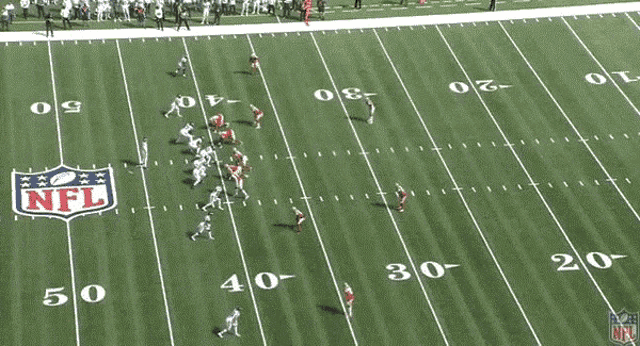 Darnold immediately throws the hot route to Berrios, who turns upfield for the first down and it's the right read, although if he had a bit longer he'd have been able to anticipate who was most likely to drop and slide across the protection so Becton didn't have two players to block.
Also notable about this is the fact that it's released as Berrios makes his break, not after he turns and looks for the ball, which is something Darnold can be guilty of, giving a defender a chance to recover. Darnold needed to trust Berrios here, although you could audibly hear him yell "smoke" as the ball is in the air due to the lack of a crowd.
Other than this, Berrios had one other first down on a hesitation drag route dumped over the middle, but he also had a few catches in the flat where realistically he didn't have much hope of generating yardage. Even so, he almost broke away for a 3rd-and-long conversion on one of these, only to slip and lose his footing.
Berrios clearly showed he can make some contributions at this level and has earned a chance to get more regular rotational reps. It might be good to see some four-wide sets with both Berrios and Crowder working the slots at the same time.
Time for Chris to Hern his keep
Chris Herndon, on the other hand, has been a major disappointment so far. He had just one catch for five yards on a play where he ran across under the formation and then wasn't targeted again until late in the third quarter.
As noted in our nuggets article on Monday morning, Herndon was wide open for an easy first down on Darnold's first dropback of the game. However, Darnold saw it late. Then later on, he had the opposite problem, staring down Herndon when he wasn't open with the 49ers flooding the middle of the field and dropping defenders into passing lanes to take away the slant routes as they did on the above Berrios gif.
If you look back again at the gif where Fant was beaten for a sack, you'll see Darnold staring down his target to the left before running out of time. That was a play where Herndon and the receiver on that side were in the same area of the field with three or four defenders and was clearly never going to be open, so Darnold should immediately have come off that look and gone to a second read.
As you'll see, if he looked to the right, he'd have seen Berrios uncovering on a whip route and could have got this off if he had thrown it as he was making his break. This would either have ended with a completion or a holding penalty on the defender. He also had room to step up to his right and maybe even take off and run if he had been looking to that side.
Later on, Darnold again threw to Herndon when he should have been looking at Berrios. Once again, it's a whip route from Berrios who is all alone for an easy 3rd-and-10 conversion, but Darnold hesitates with pressure closing in and instead tries to force it to a tightly covered Herndon.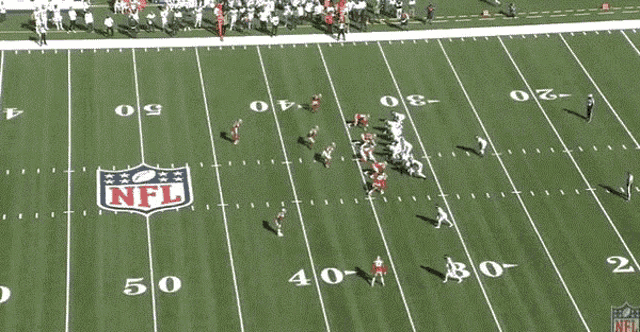 Herndon was targeted unsuccessfully two other times. One of these was a short pass that was disrupted over the middle - perhaps by an early hit - as Darnold's arm appeared to be hit. The other was the play in the end zone where Herndon dropped a tough sideline catch as he was falling to the ground having got half-open on a scramble drill.
While he's not contributing as a pass blocker, Herndon is being required to block about half of the time. He used to be a really bad blocker but he's improved now to the point where he's more accurately described as hit and miss.
He let his man get off his block a couple of times, but did make a few good blocks too, including some encouraging aggression on the Fant gif above and a great driving block on Malone's long kick return.
While he did draw a late pass interference penalty on a back shoulder throw, the Jets really need to find a better way to scheme Herndon to be more involved. Even in week one where his numbers were a little better, most of that came in garbage time, which isn't good enough for this struggling offense.
Previously - Three on D: Austin, Williams, Franklin-Myers