Three on O: Mims, Flacco, Lewis
After each game, we've been highlighting three defensive and three offensive players and looking in detail at their performance. We'll begin today with the offense:
The King of Mims
Rookie Denzel Mims made some encouraging strides in this game, his most productive so far, although he once again was shut out after half time.
As noted in this week's Saucy Nuggets article, Mims has had all of his production so far in the first half of games and none in the second half. As we noted, extrapolated to 16 full games, the first half production from the past three games would be on a pace for over 100 catches and 1,500 yards.
After catching four passes for 62 yards in the first half, Mims' only second half target was Joe Flacco's fourth quarter arm punt as he overthrew Mims deep and JC Jackson ran under it for an interception.
Mims showed some good progress in the first half, though. He opened with a 26-yard catch on an in-breaking route that saw him stiff arm and throw off Jason McCourty downfield for extra yardage and also had a good downfield catch in traffic. There was some good work after the catch here too: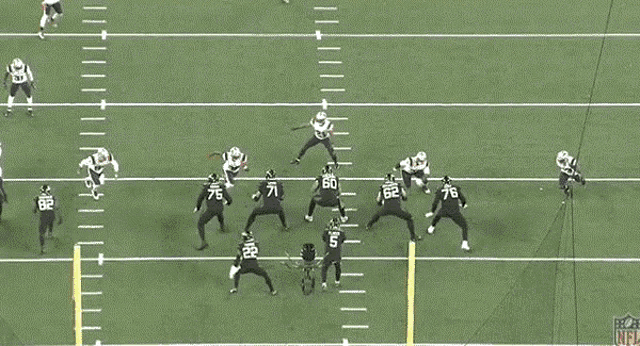 Mims' other catch saw him stopped just short of the marker on third down and he was unsuccessfully targeted four times, including one where he was open but the throw was too high off his fingertips.
The lack of second half production is confounding but there's no question Mims looks the part so far and it's interesting to consider what his ceiling might be.
Joe must go on
On the whole, Flacco had a very good performance, with almost 200 yards by half time and three touchdown passes. He became the first Jet to achieve this since Sam Darnold last November. Darnold had only had three touchdown passes two other times prior to that, too.
That performance included some great passes including a dime to Jamison Crowder for a touchdown and an on-the-money deep touchdown to Breshad Perriman, who got open on a double move. However, he did get lucky early on when Devin McCourty dropped a potential pick-six.
What we're going to focus on, though, is the final series, which saw Flacco make some mistakes you wouldn't expect from a veteran.
The Jets got the ball back with the scores tied and under two minutes to go. Prior to this series, they had run just one play in the fourth quarter - the interception on the deep throw to Mims. Otherwise, New England had drained 13 minutes off the clock with two long scoring drives.
The potential game winning drive got off to a solid start as Flacco dumped a short pass to La'Mical Perine for eight. However, on 2nd-and-2, this happened: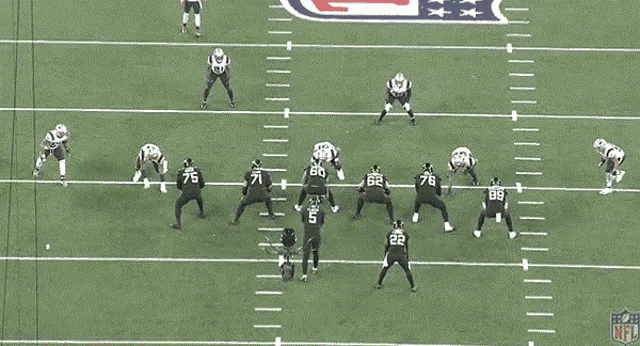 Clearly Flacco took too long here, taking a costly sack as he waited for downfield routes to develop. However, he could easily have moved the sticks by dumping it off to Perine who was wide open beyond the marker.
On third down, this happened: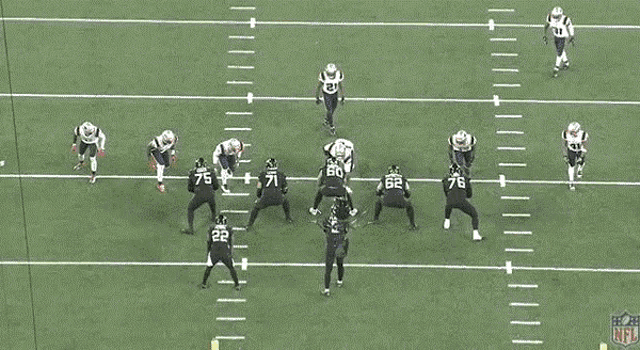 Again, the pressure got to Flacco and he basically threw it away. The right side of the line is fooled by the bluff off the edge and doesn't react in time for Connor McGovern to pick up the blitz - although, actually, check out the blatant (but rarely called) holding penalty on the nose tackle as he prevents McGovern from passing him off by dragging him out of the middle.
Ironically, on this occasion, it might actually have been better to take the sack because that would at least force New England to burn another time out, although it would have forced Braden Mann to punt from deeper.
What Flacco could have done, though, is dump it over the middle to Mims. Yes, Mims would have been behind the sticks where he caught the ball and Flacco would have been under pressure as he released the pass, but the earlier play was almost exactly the same as this and that one went for a nice gain.
Ultimately, not many Jets fans are heartbroken over having lost this one but a better series there could have given the Jets a chance to win and should at least have enabled them to get to overtime by not leaving too much time on the clock.
Whether and to what extent we'll see Flacco again is another matter.
Alex springs a leak
Alex Lewis had another disappointing game as he's continued to be inconsistent following a solid start to the season.
Initially, the signs were good, as the Jets were dominating up front. Lewis made a key block on a few good running plays, including this one, which was Frank Gore's longest of the season so far:
Once Mekhi Becton left the game, the offensive line ceased to be dominant. They had rushed for 50 yards on 12 carries by halftime but only had 15 on six carries after halftime.
This is both good and bad news. It's good because it's a measure of what a difference Becton can make when he's in the game. However, it's also bad because it suggests they are over-reliant on him and also that Lewis' play, and that of the line as a whole, suffered when Chuma Edoga was inserted into the lineup.
After Becton's departure, Lewis allowed two runs to be blown up by penetration. His run blocking wasn't too bad though - it was his pass protection that was the bigger issue.
Lewis hasn't given up a sack yet this year in pass protection, but the Jets are still surrendering a lot of interior pressure, especially when teams stunt or mix up their blitz packages. He gave up a season-high three quarterback hits in this game, although he did also pick up a few stunts well.
The team views Lewis as a leader and he should be expected to return next year, even though his contract has been structured in such a way as to enable them to cut ties if they desire. Hopefully he gets more reps alongside Becton because that usually seems to be when he's at his most effective.
We'll be back with the 3-on-D tomorrow...