Three on O: Wilson, Tippmann, Vera-Tucker
After each game, we'll be highlighting three defensive and three offensive players and looking in detail at their performance. We'll wrap up today with the offense:
Zach to the drawing board
It was another rough performance from Zach Wilson, who - right from the get-go - looked like the same old Zach in terms of his inability to read the defense, make a decisive decision, take a risk or sustain drives.
From the film, there are so many things which should be easy to fix. He constantly made the wrong decision at the very first sign of pressure. He would escape the pocket too early, or into pressure rather than away from it, fail to recognize outlet options until it was too late and wasn't trusting his protection to hold up long enough to allow routes the develop.
These are elementary mistakes where you don't need to be insanely talented to make the right decision next time. And with Wilson consistently looking at his best once he finds some rhythm, rolling out the right way to pick up positive yards, dumping it off for a short gain instead of throwing it away and throwing it away instead of taking sacks will help him to sustain drives and find that rhythm.
On the touchdown drive, where he did get some rhythm, he had 79 passing yards on nine dropbacks. Otherwise? 78 yards on 31 dropbacks. And that doesn't include negative yards on sacks.
Here's just one example of a play where he easily could correct this and make the right decision next time to keep a drive going. The Jets have 3rd-and-8 here and need to get to midfield. A pass to Tyler Conklin on the left side here achieves that, but Zach is too focused on downfield options.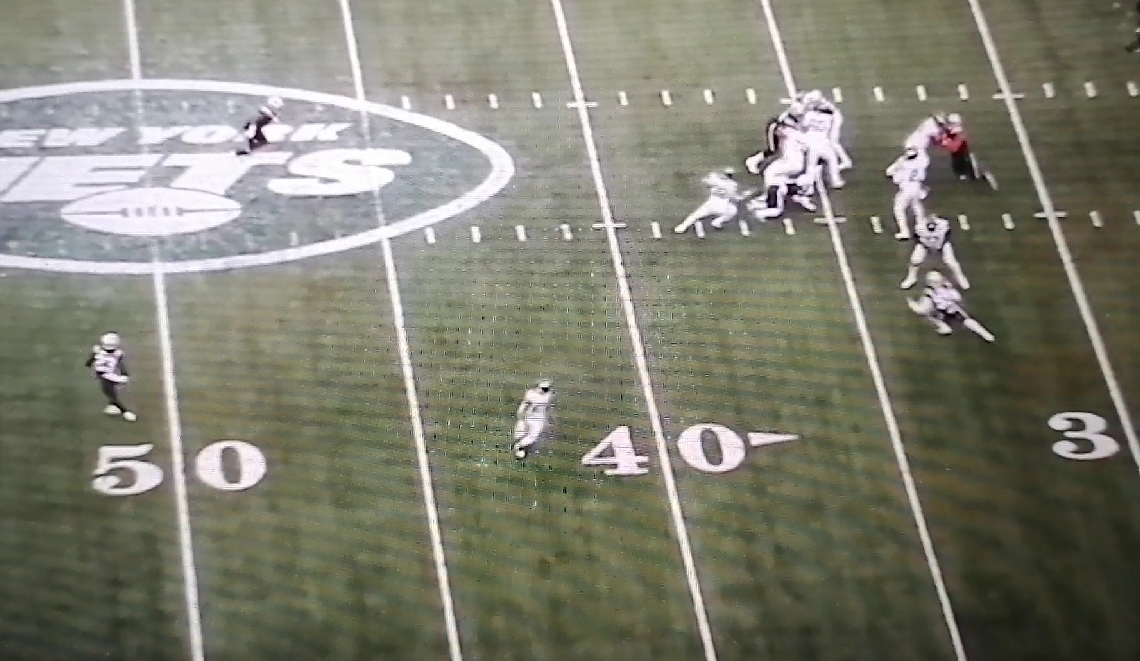 At the root of his problems is a reluctance to make any downfield throw that doesn't look wide open. And, of course, in the NFL you can't wait until the man is open, you have to make anticipatory throws.
If you don't see guys getting open, you need to be more decisive about taking off and running but Wilson kept running backwards rather than stepping up. He only had one rushing yard, on a 3rd-and-long where he didn't make it to the edge. He did scramble past the marker on one third down play, but that was negated by a hold.
Part of this problem must be down to coaching and could be partly influenced by both Nate Hackett and the previous offensive coordinator Mike LaFleur and maybe even Robert Saleh himself. The Jets seem to have it in Wilson's head that he can't afford to turn the ball over so now Wilson is playing scared.
This is particularly scary in the case of Hackett, whose father Paul was a notoriously conservative playcaller back in the Chad Pennington era. Those Jets teams had good ball security, but relied far too much on Curtis Martin running behind an elite offensive line. It seems like Hackett Jr. similarly lacks trust in Wilson to make plays, although he obviously had that trust in Aaron Rodgers.
When the Jets drafted Wilson, this was the guy that they saw: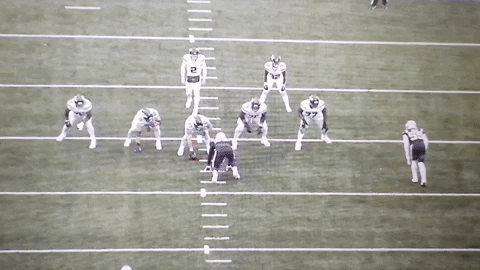 Give him a clean pocket and a soft coverage and he can grip it and rip it with confidence. That's not to say that all they need to do is put an elite offensive line that never gives up any pressure in front of him, though. You just don't see these coverages in the NFL unless it's garbage time and the Jets know this and seem to think the risks outweigh the rewards when he is throwing into conventional coverages. Unfortunately, that often means zero rewards.
The next stage for Wilson is if he can actually show any improvement with Rodgers actually present to give him advice during the week and on gameday. If he doesn't pass that test, he could be all out of chances.
The Tipp of the Iceberg
The Jets probably wouldn't have given Joe Tippmann the start on Sunday if Wes Schweitzer had been available, but the rookie did a decent job at right guard and has earned another chance to start even if Schweitzer clears concussion protocol today or tomorrow.
The Jets had very limited success in the running game, but there are still some positives to take from Tippmann's performance. If he can make reach blocks this effectively on a consistent basis, the Jets will pick up a lot more yards on the ground: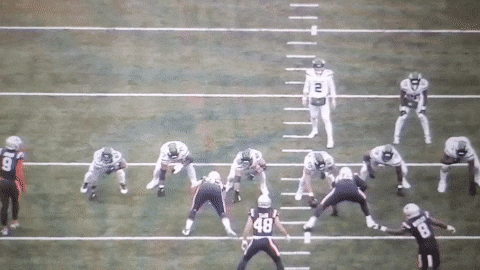 Tippmann impressed with his strength at the point of attack, only being stood up once and usually either getting an initial push or eventually gaining some traction. He buried his guy on this play: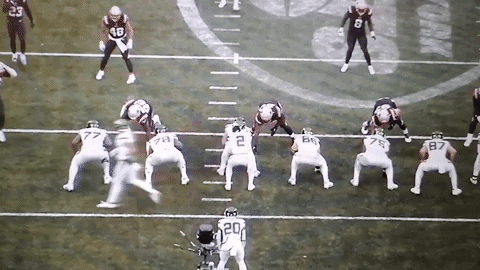 The Jets successfully ran behind Tippmann a few times on short yardage conversions, including one where he pulled to the left side.
In terms of negatives, there were a flew plays where the Jets tried to have him burst to the second level and pick up a block but his man made a quick read and beat him to the spot. There might be an opportunity to break tendency on that particular play and have some kind of cutback option instead.
Turning now to pass protection, Tippmann handled his responsibilities well when blocking one-on-one and showed good awareness on stunts and when he was the spare man. He didn't allow any direct pressure, albeit that he was called for a hold when a lineman ran him over and he grabbed his man's leg while they were tangled up on the ground.
There were a couple of plays where he allowed his man to get to Wilson late in the play, including one that ended up in a sack, but these were attributable to coverage because he stayed in front initially, for long enough to give the quarterback time to make a decision.
Barring injury, Tippmann looks likely to take over as the starting center next season, or later this year if the Jets fall out of contention. Getting this experience at guard now, though, is useful and his performance was encouraging.
A.V.RT.
On Sunday, Alijah Vera-Tucker kicked out to right tackle, as he did a few times last season (although his first appearance at tackle was on the left) and handled the role pretty effortlessly.
In pass protection, he stayed in front of his man pretty much all day. The only real exception to this was when Matthew Judon got upfield on him around the outside, but Vera-Tucker stayed on the block and Judon slipped before he could turn the corner properly.
Otherwise, the only times Vera-Tucker got close to allowing pressure was when a late blitz came off the edge and he had to kick out to try and pick it up, passing his man off to Tippmann inside. Even on these plays, he got in front of the rusher and forced them upfield, although Wilson rolled out that way on one.
Again, the Jets didn't do much in the running game, but Vera-Tucker didn't make any real mistakes and consistently got traction in the trenches. Here was one of his more aggressive blocks.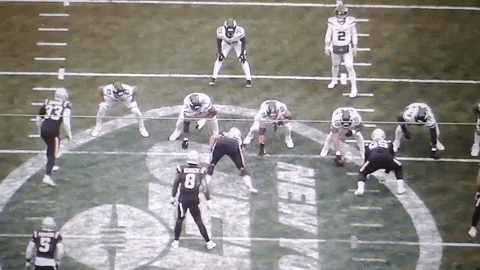 Vera-Tucker did have one negative, a false start on 1st-and-goal, but the Jets scored a touchdown anyway so it didn't matter. He did perhaps get away with dropping into his stance a half-beat too early on a couple of passing downs so that may be something he needs to be careful with in case the Jets face an officiating call that is being tighter on that particular rule.
The Jets are so lucky to have Vera-Tucker, who seems unbothered by where they decide to put him. He definitely prefers playing at guard though, so the Jets shouldn't base their longer term plans around him kicking outside.
Previously: Three on D: McDonald, Amos, Reed